DirecTV is entering the world of film financing through a new partnership with startup movie studio A24 Inc. Through the deal with A24, the satellite operator will acquire independent films in exchange for exclusive rights to offer them on DirecTV's video-on-demand services 30 days before the indies are released theatrically. DirecTV will initially commit $40 million to co-finance and market independent films; the first acquired with A24 is the thriller "Enemy," starring Jake Gyllenhaal.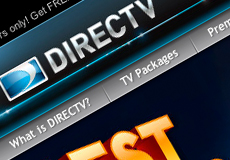 "The satellite-TV provider has previously obtained rights to show some movies on its VOD service before their theatrical release on a one-off basis, but this marks the first time it is investing directly in films," reports The Wall Street Journal. "The partnership highlights the importance of the growing video-on-demand market for independently financed films, many of which struggle to gain attention in theaters."
"It also indicates the steps pay TV operators are taking to expand their on-demand services as they seek to retain customers in a stagnant U.S. business and differentiate themselves from rivals."
DirecTV launched its "Home Premiere" movies-on-demand initiative in 2011, but failed to draw customers due largely to the high price and lack of popular titles. The company also placed a bid for video streamer Hulu LLC earlier this year.
Currently, DirecTV's "Sunday Ticket" package of National Football League games helps distinguish it from competitors.
Founded last year, A24 is best known for releasing the James Franco comedy "Spring Breakers" and the social media teen drama "The Spectacular Now."
"Splitting costs with DirecTV will allow A24 to release more movies at lower cost and get promotional support from a major distributor," suggests WSJ. "DirecTV has about 20 million pay TV subscribers nationwide."
DirecTV plans to heavily market the new indie offerings for its on-demand platform, and expects to charge between $10.99 and $12.99 for seven-day rentals. "Enemy" will debut early in 2014, and the company hopes to premiere a new title every month to follow.
Topics:
A24
,
Cinema
,
DirecTV
,
Distribution
,
Enemy
,
Exclusive
,
Film
,
Finance
,
Financing
,
Football
,
Franco
,
Gyllenhaal
,
Hulu
,
Independent
,
Indie
,
Marketing
,
Movie
,
NFL
,
On Demand
,
Operator
,
Pay TV
,
Provider
,
Release
,
Rights
,
Satellite
,
Social
,
Sports
,
Startup
,
Stream
,
Streaming
,
Studio
,
Subscribe
,
Sunday Ticket
,
Television
,
Theater
,
Theatrical
,
TV
,
Video
,
VOD