If things weren't already looking bleak enough for BlackBerry, the company released its latest earnings report on Friday. Second quarter results for the three months ending August 31 show revenue of $1.6 billion, down 49 percent from the previous quarter and 45 percent from the same quarter last year. The company also reported an adjusted loss of $248 million. And on the heels of a near $1 billion inventory markdown, BlackBerry announced it will start directly selling unlocked smartphones.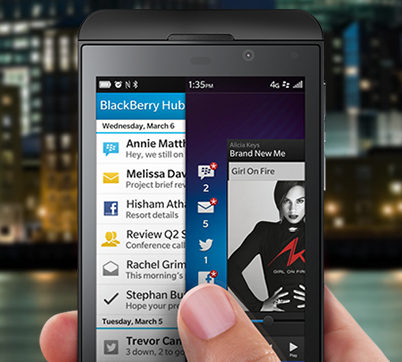 "The folks in Waterloo have already attempted to soften the blow of an especially dark quarter by announcing that it expected to post an operating loss of between $950 and $995 million last week," reports TechCrunch.
"In this release, the company has finally put a firm number on that wound — the total GAAP loss from continuing operations came in at $965 million, right in the middle of the company's forecasted range. The big culprit? A hefty writedown (think around $934 million) incurred thanks in large part to a glut of unsold BlackBerry Z10s."
Shortly after T-Mobile announced it would stop stocking BlackBerry handsets in-store (but continue selling them online), BlackBerry revealed its new direct selling model in the U.S. The Canadian manufacturer now offers unlocked Q10 smartphones for $549 and Z10 models for $449 through its own website.
"Those may not be quite bargain basement prices, but they're cheap enough compared to other unlocked flagship phones from manufacturers like Apple, Samsung, Sony and HTC, and the move is almost certainly tied to BlackBerry's near-$1 billion write-down on hardware inventory reported last quarter," notes TechCrunch in a related post.
The inventory write-down was largely credited to the poor performance of BlackBerry's flagship Z10, launched in January, the first phone to be powered by the company's new operating system.
"BlackBerry's decision to price the Q10 slightly higher might be due to a marginally better reception for the keyboard-sporting design," suggests TechCrunch. "Having reviewed both devices, the Q10 was definitely the better of the two by a wide margin, if only for basic advantages like longer battery life."
The company's Q5 and new Z30 are not currently included in the direct sales channel.
Topics:
Apple
,
BlackBerry
,
Broadband
,
Canada
,
Carrier
,
Design
,
Direct
,
GAAP
,
Handset
,
HTC
,
Inventory
,
iPhone
,
Keyboard
,
Markdown
,
Mobile
,
Operating System
,
Phone
,
Pricing
,
Projection
,
Provider
,
Q10
,
Q5
,
Report
,
Revenue
,
RIM
,
Samsung
,
Smartphone
,
Sony
,
T-Mobile
,
Unlocked
,
Waterloo
,
Wireless
,
Z10
,
Z30