As online entertainment grows in popularity, leading to demand for faster access, Cox Communications is planning to make its broadband service for residential customers much faster this year. Cox is planning on offering Internet speeds of 1 gigabit-per-second, which is 100 times faster than the average Web access. This service will closely compete with AT&T and Google who are also trying to introduce fiber-optic broadband services, and offer customers 1 gigabit-per-second speeds.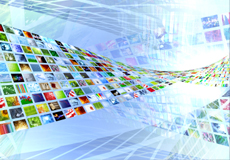 Pat Esser, the president and chief executive of Cox, announced this plan in an interview with Betty Liu on Bloomberg Television. He said that customers have been asking for faster speeds, and the company is working to help meet this demand.
Customers have been more interested in faster speeds with the rise of streaming services such as Netflix and Hulu. Faster Internet also opens up the possibility for companies such as Sony and Dish to sell Internet delivered TV in cable-esque bundles of channels through the Internet.
According to Bloomberg, "The introduction of Google Fiber has put pressure on cable operators like Cox and Time Warner Cable to boost their offerings. After Google said it was coming to Austin, Texas, Time Warner Cable said it would boost speeds for its data customers there to 300 megabits a second from 50 megabits a second at no additional cost."
"Last year, the number of Americans paying for television fell for the first time. The industry lost 251,000 customers to total about 100 million," reports Bloomberg. This new model gives potential to recapture the market.
Topics:
Access
,
American
,
AT&T
,
Austin
,
Bloomberg
,
Boost
,
Broadband
,
Bundle
,
Cable
,
Channel
,
City
,
Cox
,
Customer
,
Data
,
Dish
,
Entertainment
,
Esser
,
FAST
,
Fiber
,
Fiber Optic
,
Google
,
Hulu
,
Humble
,
Industry
,
Internet
,
Model
,
Netflix
,
Offerring
,
Plan
,
Private
,
Residential
,
Sony
,
Speed
,
Streaming
,
Television
,
Texas
,
Time
,
TWC
,
Warner
,
Web