Consumer mobile app spending hit $170 billion in 2021, according to the State of Mobile in 2022 report released by App Annie. Charting expenditures across iOS, Google Play and third-party Chinese Android app stores, the figure represents 19 percent year-over-year growth, almost flat (down from 18 percent growth in 2020). While last year, consumers installed more apps than ever, the growth rate itself is slowing. Last January, App Annie reported year-over-year download growth of 7 percent from 2020, which has dropped to 5 percent for 2021. However, in all, consumers downloaded a record 230 billion apps in 2021.
"Consumers are spending more time in apps — even topping the time they spend watching TV in some cases," writes TechCrunch of the App Annie report, noting "the average American watches 3.1 hours of TV per day, for example, but over the course of the past year, they spent 4.1 hours on their mobile device. And they're not even the world's heaviest mobile users. In markets like Brazil, Indonesia and South Korea, users surpassed 5 hours per day in mobile apps in 2021."
The biggest growth, however, is being driven by emerging markets including India, Indonesia, Egypt, Pakistan, Peru, the Philippines and Vietnam.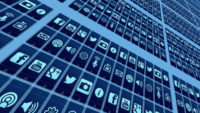 "Globally, the top five most downloaded apps in 2021 were TikTok, Instagram, Facebook, WhatsApp and Telegram. By consumer spend, the list was TikTok, YouTube, Tinder, Tencent Video and Disney+," TechCrunch reports.
"By publisher, the top companies by downloads were Google (top app Google Meet), Meta (top app Instagram), ByteDance (top app TikTok), Microsoft (top app Microsoft Teams), and InShot (top app InShot). By consumer spend, the top publishers were Google, Match Group, Tencent, Disney and ByteDance."
Across the top 10 markets, the average amount of in-time spent topped 4 hours, 48 minutes in 2021, a 30 increase from 2019. Time spent in social, photo and video apps, accounted for "7 out of every 10 minutes spent on mobile in the past year," says TechCrunch.
Those categories, in addition to entertainment apps, had a lot of Gen Z appeal, particularly in the U.S. where Gen Z's most popular apps included Instagram, TikTok, Snapchat and Netflix. Millennials, on the other hand, preferred Facebook, Messenger, Amazon and WhatsApp.
COVID-19 had a big impact on 2021 consumer app spending of $43 billion in the U.S., according to App Annie, which attributed "phenomenal" growth to the fact that people were forced to shop, work, learn, game and entertain at home over the past year, a $10.4 billion increase over 2020, up 30 percent.
For more details, download App Annie market insights from the State of Mobile in 2022 report.
Topics:
Amazon
,
Android
,
App Annie
,
ByteDance
,
COVID-19
,
Disney
,
Disney Plus
,
Egypt
,
Facebook
,
Gen Z
,
Google Meet
,
Google Play
,
India
,
Indonesia
,
InShot
,
Instagram
,
iOS
,
Match Group
,
Messenger
,
Meta
,
Microsoft Teams
,
Millennial
,
Netflix
,
Pakistan
,
Peru
,
Philippines
,
Snapchat
,
Telegram
,
Tencent Video
,
TikTok
,
Tinder
,
Vietnam
,
WhatsApp
,
YouTube