Comcast, the largest cable company in the U.S., could potentially soon have more Internet subscribers than television subscribers. During the last quarter, the company's video users increased by only 6,000 to 22.4 million, while its broadband subscribers jumped by 375,000 to nearly 22 million. The diminishing gap could be a sign of the times, with an increasing number of consumers becoming more interested in services such as Amazon and Netflix, as opposed to traditional TV. As a result, Comcast is working to attract more broadband users.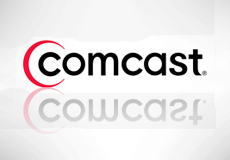 "At Time Warner Cable, which Comcast agreed to buy a year ago, broadband subscribers already outnumber cable TV customers," reports Bloomberg.
"The cable companies are saying: 'Even if everybody drops video and goes to Netflix, where are they going to get broadband? They've got to go back to me,'" said Paul Sweeney, analyst at Bloomberg Intelligence. "Broadband is what's going to drive our business."
The drop in video customers only reflects those who typically subscribe to cable, not those who opt for phone, data and cable bundles.
"Viewers age 18-to-34, the most coveted by marketers, have been watching less live TV since 2012, with viewership declining about 4 percent a year, according to Nielsen data gathered by Horizon Media," notes Bloomberg. "While Internet has become a growth engine for Comcast, cable remains the biggest unit of the two, by far. Comcast's cable generated $20.8 billion in revenue last year, compared with $11.3 billion for high-speed Internet."
Meanwhile, Comcast's NBCUniversal is calling for improved audience measurement in the face of an evolving landscape.
According to Steve Burke, chief exec of NBCUniversal, about 70 percent of views for "The Tonight Show" with Jimmy Fallon occur online and are not generally included in most TV ratings.
"Speaking on Comcast's fourth-quarter earnings conference call, Mr. Burke added his voice to the chorus of media executives calling for measurement to improve as major television networks experience ratings declines," The Wall Street Journal explains. "Mr. Fallon's show releases video clips from each night on YouTube, and many clips have gone viral as people shared them on social media. Mr. Burke said the majority of those views aren't monetized by NBCU."
"I think there clearly is room for improvement," said Burke. "That is not going to last forever."
Topics:
Advertising
,
Amazon
,
Broadband
,
Cable TV
,
Comcast
,
Data
,
Internet
,
ISP
,
Jimmy Fallon
,
Marketers
,
NBCUniversal
,
Netflix
,
Nielsen
,
Paul Sweeney
,
Pay TV
,
Phone
,
Ratings
,
Social Media
,
Steve Burke
,
Streaming
,
Subscribers
,
Subscription
,
Television
,
The Tonight Show
,
Time Warner Cable
,
Video
,
YouTube