Cloud computing and virtual production were the hot tickets at NAB 2022, where attendance was 52,468, down 40 percent since the previous most recent live show in 2019, when 91,500 convened in Las Vegas. And there were fewer exhibitors (about 900 vs. roughly 1,600 three years ago). But some things never change. Amazon Web Services, ARRI, Blackmagic, Quasar Science and Mo-Sys were among the notable companies touting cloud-based and virtual production solutions. And Sony Electronics wowed the crowd with a sprawling booth that featured its new Venice 2 digital cinema camera.
The Venice 2 (below) has an interchangeable sensor block allowing users to switch between the new full-frame 8.6K and the original 6K Venice sensor.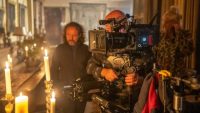 Filmmakers will have sufficient oversampling with the new 8.6K sensor to capture images with less noise and improved details in 2K and 4K productions, making the Venice 2 a great choice for in-camera visual effects (ICVFX) and virtual production. Matched with Sony's high-contrast and large-scale Crystal LED displays, the combination is engineered to generate immersive images.
Theresa Alesso, president of Sony's Imaging Products & Solutions Professional Division, announced a partnership with the USC School of Cinematic Arts to provide its latest equipment to further its goal to "motivate and shape tomorrow's creators." The massive upgrade will include the installation of a state-of-the-art virtual production studio featuring the latest Sony Crystal LED B-series panels. The new virtual production curriculum will launch in Fall 2022.
The enormous Amazon Web Services booth included a media and entertainment theater showcasing solutions for over 20 AWS products and a selection of their 400 AWS partners.
Arch Platform Technologies demonstrated how to create a "studio in the cloud" via an enterprise-level software-as-a-service (SaaS) dashboard to build and manage workstations, render farms, storage and licensing servers, as well as create users and teams with access to popular applications like AWS Thinkbox Deadline, Autodesk ShotGrid and Moxion.
Other NAB 2022 highlights included:
The upcoming ETC@USC short film "Fathead," a virtual production test case, was fortunate to work with several of the technologies mentioned here. (Full disclosure: I served as virtual production producer on the project.)
Other new innovations on the NAB show floor seem sure to make their way into the toolkit of virtual production essentials. Quasar Science shared an image-based lighting solution for virtual production. Zeiss showcased its Supreme Prime Radiance 15mm T1.8 lens, which completes the 14-lens Supreme Prime set. And the Planar DirectLight Ultra 0.6 LED Video Wall offers super-fine pixel pitch with high resolution for special use cases, allowing cameras to be placed much closer to walls than previous panels with a pixel pitch as high as two or three times this value.
NAB 2023 will mark the 100th iteration of the show, which kicked off at the dawn of the radio broadcast era. It's certainly a much different media landscape now — we create and consume content on the go and operate remotely in teams of any size. The trend toward efficiency is to interact with one connected computer to accomplish a myriad of tasks using apps, platforms and storage via SaaS, PaaS and IaaS solutions.
Topics:
5th Kind
,
Adobe
,
Arch Platform Technologies
,
ARRI
,
Autodesk
,
AWS
,
Blackmagic
,
Cloud
,
Crystal LED
,
Digital Cinema
,
Encryption
,
ETC@USC
,
Fathead
,
Frame.io
,
IaaS
,
Mo-Sys Engineering
,
Moxion
,
NAB 2022
,
PaaS
,
Quasar Science
,
SaaS
,
Sony
,
Teradek
,
Theresa Alesso
,
USC School of Cinematic Arts
,
Venice 2
,
Video Wall
,
Virtual Production
,
Zeiss