Arm Holdings is flexing its muscle in the Internet of Things, with three new solutions, including the Cortex-M85 microcontroller, designed for high-performance edge computing. Also introduced are the Arm Total Solution for Cloud Native Edge Devices, which paves the way for developers using Linux, and the Arm Total Solution for Voice Recognition. The announcements further the goals the UK-based company set six months ago when it launched its Total Solutions for IoT division, aiming to accelerate IoT development through full-stack solutions.
"The IoT runs on Arm, and we have a responsibility to create greater opportunities for IoT innovation and scale by continually raising the bar on performance, simplified development, and software reuse for our ecosystem," Arm vice president of IoT and embedded tech Mohamed Awad said in a company announcement.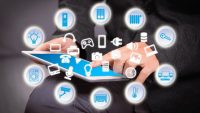 Arm believes that developers as driving "the future of the IoT." At the heart of its Total Solutions is Arm Corstone — a pre-integrated, pre-verified IP subsystem.
With what the company says is a 30 percent improvement over the Cortex-M7 and 20 percent greater efficiency for machine learning workloads, the Cortex-M85 "supports the Armv8.1-M instruction set that features Arm Helium technology for endpoint ML and digital signal processing (DSP) workloads," VentureBeat reports.
The Cortex-M85 also has a PSA Certified Level 2 security baseline as part of the enhanced Arm TrustZone for IoT deployments.
Arm's Total Solution for Voice Recognition is aimed at use cases from drones to thermostats, and can be applied to a wide range of high-performance products. Based on the Corstone-310 subsystem, it's pre-integrated with the new Cortex-M85 and the Arm Ethos-U55 machine learning processor.
The Corstone-1000 is the foundation for Arm's Total Solution for Cloud Native Edge Devices. Corstone-1000 is created for developers that run application-class workloads on high-performance hardware using the Linux OS. "Because of this, Corstone-1000 is designed around the Cortex-A architecture, which is much higher performing than Cortex-M," Network World points out.
Corstone-1000 is part of Arm's SystemReady certification program, which promises that the CPU and subsystems are "fully integrated and work right out of the box," according to Network World, which says Cortex-1000's Project Cassini support simplifies "cloud-native software experiences for developers writing applications that run on Cortex-A-based processors."
Arm announced it is extending its Virtual Hardware support to the two new Corstone designs and "the vast majority of the Cortex-M product line," which means independent software vendors and cloud service providers "can now take advantage of the billions of Arm-based IoT and embedded devices which are already deployed."