On Sunday, January 7, CES 2018's hottest trends were previewed in an event open only to press. CTA senior director of research Steve Koenig and senior manager of research Lesley Rohrbaugh divided tech trends into three parts: Ingredient or B2B technologies such as 5G, AI and robotics; In the Market tech comprised of native interfaces, digital senses and realism redefined; and Emerging Tech focused on smart cities, sports innovations and digital therapeutics. The technology that will make all of it possible, they say, is 5G.
"We're in the connected era, which was built on the digital decade," declared Koenig. "We understand the importance of connectivity to the global economy. 5G and AI are heralds of and bridges to the coming data age."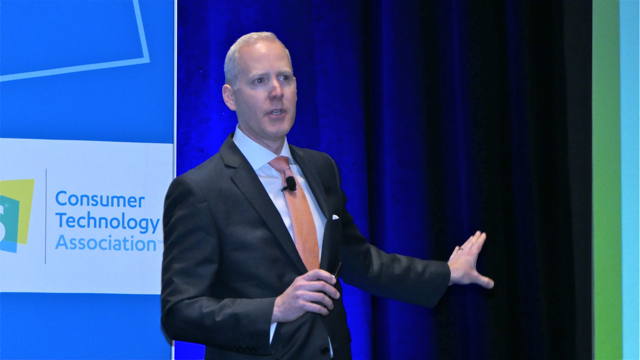 Last year's CES saw a serious introduction of 5G, and recognition of its higher speed, greater capacity and lower latency. "This year, the big story for CES is the 5G roll-out," said Koenig, who noted the importance of the network for everything from urban infrastructure to self-driving cars.
Koenig noted that we're already seeing some of that roll-out, with the Verizon-Samsung announcement of residential 5G broadband in California. "We'll also hear more about 5G radio, and the chip that will make its way into our smartphones and other devices and nodes," he said. "What's exciting is we're getting a view of 5G becoming a reality."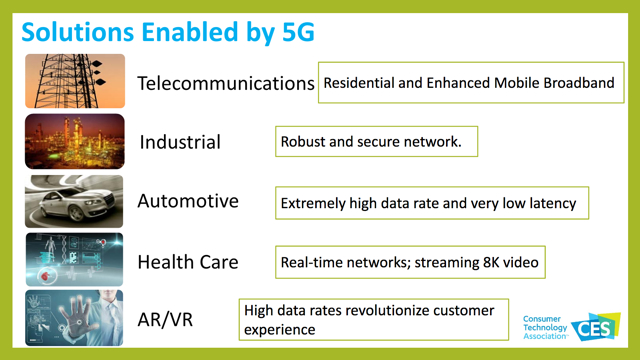 He predicted that we are likely to hear more about 5G-network deployments for residential broadband and enhanced mobile broadband at CES 2018. "With 4G, we've seen Lyft, Uber, Airbnb — lots of disruptive things," he said. "What will be possible in a 5G world? It's exciting to ponder. We'll see mind-blowing initiatives."
Smart speakers will be a huge engine of growth in 2018, with CTA predicting 93 percent growth in 2018, representing $3.8 billion in revenue and a 60 percent jump to 43.6 million units. Rohrbaugh noted that new digital assistants, such as Samsung's Bixby, will be shown at CES. "Smart speakers are the vanguard," said Koenig, who notes that they enjoyed 279 percent growth in 2017. "We don't always see hockey stick growth like this. This is significant and should codify consumers' enthusiasm around voice."
According to Rohrbaugh, voice is now the fourth sales channel in addition to stores, mobile and online. Brands are now challenged to determine their identity in this new channel, as U.S. consumers flock to it. She said CTA research showed that, this last Christmas season, one in five U.S. consumers used voice to learn about sales and holiday deals. As voice becomes the preferred user interface, there will be many new business and marketing opportunities, she said.
This year, smart home products are likely to have 34 percent growth to $4.5 billion in revenue, and a 41 percent leap to 40.8 million units. Streaming services is another growth engine, leaping 35 percent to $19.5 billion in revenue. Drones will grow 17 percent o $1.2 billion in revenue, and 4K Ultra HD TVs are due to grow 14 percent to $15.9 billion in revenue and a 27 percent jump to 22 million units.
Virtual reality will grow 18 percent in revenue to $1.2 billion in revenue and a 25 percent growth in units to 4.9 million. New in-vehicle tech is predicted to grow 6 percent to $15.9 billion in revenue.
But it's the bigger category of connected devices that, in part due to 5G, will be the biggest winner in 2018, with over 715 million connected products predicted to sell this year. That translates to a big number in consumer tech spending: almost $351 billion in 2018.
The CTA slideshow is available online as a PDF.
Topics:
4G
,
4K
,
5G
,
5G Radio
,
8K
,
Airbnb
,
Artificial Intelligence
,
Augmented Reality
,
Autonomous Vehicles
,
Bixby
,
Broadband
,
CES 2018
,
Connected Devices
,
CTA
,
Drones
,
IoT
,
Las Vegas
,
Lesley Rohrbaugh
,
Lyft
,
Mobile
,
Research
,
Robotics
,
Samsung
,
Security
,
Self-Driving Cars
,
Smart Cities
,
Smart Home
,
Smart Speakers
,
Smart TVs
,
Sports
,
Steve Koenig
,
Uber
,
Ultra HD
,
Verizon
,
Virtual Reality