Ujet rolled out its first energy-efficient, lightweight, portable, electric smart scooter at CES. Priced at $8,900 or $9,900, depending on which smart battery is selected, the Ujet weighs less than 100 pounds due to the frame's alloy and carbon composite materials, and tires constructed of single-wall carbon nanotubes. Easily chargeable via a standard outlet (no charging station required), the scooter can be controlled remotely by an Android or iOS app that provides access to customer support, performance monitoring, ignition system, locks, directions, location, even the ability to disable the Ujet in the case of a theft.
"Combining connectivity with high-performance materials found most often in the aerospace sector," reports Digital Trends, the Ujet scooter is powered by a smart battery and "comes in two sizes, with ranges of up to 43 miles and 93 miles. All you need to charge either one of these power packs is a standard power socket, and despite their considerable power, they are both about the size of a carry-on suitcase."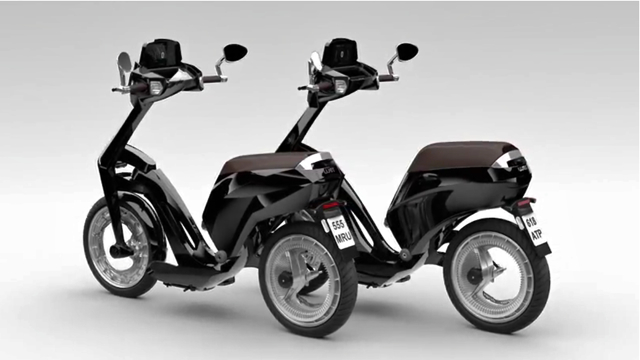 Created specifically for urban living, the Ujet scooter can be folded into a rollable unit in 5 seconds. According to its YouTube video, the connected scooter features GPS, Wi-Fi, speakers, an HD camera, and Internet access. It also includes several interchangeable components for customization.
"With more of us than ever living in cities, it's never been more important to make urban environments a place in which people enjoy to live," said Hugues Després, CEO, Ujet International. "As a result, Ujet is focused on providing urbanites with great products that help them get around their city with style and ease."
Ujet will initially launch in Europe before making its way to Asia and the U.S. later this year.
Topics:
Aerospace
,
Alloy
,
Android
,
App
,
Asia
,
Batteries
,
Camera
,
Carbon
,
Carbon Nanotubes
,
CES 2018
,
Charging Station
,
Electric Scooter
,
Europe
,
GPS
,
Hugues Després
,
iOS
,
Las Vegas
,
Locks
,
Navigation
,
Power Socket
,
Scooters
,
Smart Battery
,
Smartphone
,
Speakers
,
Support
,
Transportation
,
Ujet
,
Ujet International
,
United States
,
Wi-Fi