CES 2021 concluded last week in the wake of a challenging year marked by political unrest, social upheaval and a global pandemic that continues to impact our personal and professional lives. And much like all that we're juggling in our current COVID world, the all-digital format of this year's CES presented a number of unique challenges, most notably how to determine which products and services are most relevant to an M&E audience without the benefit of interacting up close in person. We're still working our way through information from nearly 2,000 companies and will continue to report our findings on ETCentric. In the coming weeks, ETC will also publish a comprehensive overview of the show with a focus on four dynamic themes, rather than trends: Adaptation, Change, Snapback and Opportunity. In the meanwhile, we provide this snapshot of some of the key products, technologies, trends and announcements.
Acceleration, health, corporate responsibility, and entertainment were arguably the four hottest topics at CES 2021, none surprising on the surface. But under the subject of corporate responsibility, numerous companies — most notably General Motors, Microsoft, LG and Samsung — devoted substantial portions of their CES messaging to environmental and social/lifestyle issues.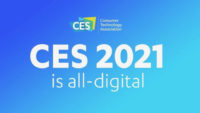 GM, for example, emphasized the shift to electric vehicles, and Microsoft touted alternative energy sources to power their data centers and addressed delicate issues of privacy and cybersecurity. Reading beyond the virtual floor of CES, attention to these issues reflects the values and priorities of a rising generation. The demographic shift was also evidenced in the game sector, where women now account for more than 45 percent of the audience and growing influence in game development.
"Acceleration" replaced "disruption" as the most repeated word of the show, regardless of industry. If there is a consensus to be drawn, it is that companies flirting with the future advanced their strategies. Media and entertainment companies, including those focused on games and sports, had been moving towards a "Digital First" future before the pandemic put the hammer down.
"Our world looks different," said Sebastian Seung, president and head of Samsung Research, "and you've been faced with a new reality, one where, among other things, your home has taken on a greater significance." Meeting the audience wherever they are is the mantra and the creative industries demonstrated tremendous adaptability. Music artist Dua Lipa was "at" CES to talk about her star-studded virtual concert, "2054," one of the year's breakout live-streamed events.
Best Buy CEO Corie Barry's offered a retail perspective. The company responded to the pandemic marketplace with three priorities: satisfying customers, protecting employees, and emerging from the pandemic as a vibrant company. Best Buy saw its sales rise 40 percent as consumers invested in stay-at-home products. Looking forward, she sees their stories as "fulfillment epicenters" in a digital first marketplace.
"For many retailers, we tend to start with humans; we're just so geared to start with humans," Barry said. "And instead this digital-first mentality is embedded in all the decisions we are making now, and by 2022, I believe it's exactly how every consumer will for sure start their journey on what they are trying to get done in their homes."
Digital health has been a growth sector for years at CES. The coronavirus pandemic created new opportunities, especially with home health monitoring and personal fitness. For example, Samsung showcased a number of products, including the Samsung Health Smart Trainer on Samsung 2021 TVs.
According to the company's CES 2021 media kit, "Samsung Health seamlessly transforms the home into a personal gym, and the new Smart Trainer4 feature tracks and analyzes posture in real time, just like a personal trainer. During and post-workout, Smart Trainer provides feedback on form, helps you count your reps, and estimates calories burned. With video and interactive training via Bixby-enabled voice control, Samsung Health Smart Trainer elevates and personalizes the home workout experience."
Among the more interesting new products, the Mercedes-Benz 56-inch Hyperscreen dashboard features a whole section designed for the front-seat passenger. And Sony continues to emphasize professional products designed for "adventurous creatives." Among their offerings are the new Airpeak drone, 360 Reality Audio, and an enhanced Crystal LED special visual system for production and other applications.
According to the show's producer — the Consumer Technology Association (CTA) — this month's first-ever all-digital CES was the largest digital tech event in history. "CES 2021 featured product launches from startups to tech giants, keynotes from global industry leaders, live entertainment from Hollywood and more than 100 hours of conference programming," notes the release. "Almost 2,000 companies launched products during the all-digital CES 2021, including almost 700 startups from 37 countries."
"CES showed how the pandemic accelerated the arc of innovation and illustrated the resilience and innovative spirit of our industry," said Gary Shapiro, president and CEO, CTA. "From the latest innovations for the home and entertainment, and advances in 5G, vehicle technology, AI and digital health, the technologies at CES 2021 will pave the way for a brighter tomorrow."
CTA identified four key themes from CES 2021:
Tech Innovation Accelerated by COVID-19
Tech companies innovated during the pandemic, with companies at CES 2021 featuring smart masks, disinfecting robots, body sensors that detect COVID-19 symptoms and smart air filtration systems.
Consumer Privacy and Trust
The heads of privacy at Amazon, Google and Twitter discussed new privacy regulations and the need to increase consumer trust, stating that tech companies must give users more control over their data.
Global Tech Challenge
The Global Tech Challenge, launched at CES 2020, in partnership with the World Bank and CTA, rewards tech solutions in three areas: digital health in East Africa, resilience in India and gender equality around the world. The selected winners were announced this week from more than 1,000 applications, with three winners selected for gender equality, 10 for resilience and 17 for digital health.
Space Tech
NASA was joined by leaders from Lockheed Martin and Space Tango to discuss technology's role in accelerating space research and breakthroughs that will benefit all of humanity.
While CES 2021 featured innovation designed to improve our world — across areas including health, safety, sustainability and accessibility — the team at ETC explores these topics with perspective most relevant to the M&E industry. In the days ahead and in our upcoming final report, we will break out additional products, including many on the leading edge and precursors to future developments. The final report will provide an overview that offers context surrounding Adaptation, Change, Snapback and Opportunity.
Meanwhile, for current news regarding products across a range of categories, Engadget presents its Best of CES Award winners and Rolling Stone pulled together a worthwhile recap. And while CES 2021 has officially concluded, CTA will keep content available on-demand through February 15 and we will continue to publish any findings of interest. Stay tuned for ETC's annual CES post-show report, which will be available in the coming weeks.
Click here for more information on the speakers, panels and new products at CES 2021 (#CES2021).
Topics:
360 Reality Audio
,
Amazon
,
Best Buy
,
Bixby
,
CES
,
CES 2021
,
Corie Barry
,
COVID-19
,
CTA
,
Cybersecurity
,
Data Center
,
Digital Health
,
Drone
,
Dua Lipa
,
Electric Vehicles
,
ETC@USC
,
Gaming
,
Gary Shapiro
,
General Motors
,
Google
,
Hollywood
,
LG
,
Mercedes-Benz
,
Microsoft
,
NASA
,
Privacy
,
Retail
,
Samsung
,
Samsung Research
,
Sebastian Seung
,
Smart TV
,
Sony
,
Sony Airpeak
,
Sports
,
Twitter