Industry leaders speaking at two CES panels this week addressed new directions in entertainment media. During the panel "What are the Entertainment Trends at CES 2014?", wearables were discussed, smartwatches in particular, and what it will take to spark consumer adoption. During "The State of the New TV Business: What Comes Next?" panel, speakers examined how networks are tackling distribution and monetization of content in an era of streaming media.
"Walking Dead" executive producer Gale Anne Hurd (right) recounted to a packed audience at "What are the Entertainment Trends at CES 2014?" how she threw her iPhone across the room and ditched Apple because Siri couldn't compute commands that include her production company Valhalla Entertainment. But, her Samsung smartwatch can, and it's one of the many reasons she believes it is THE product of the future.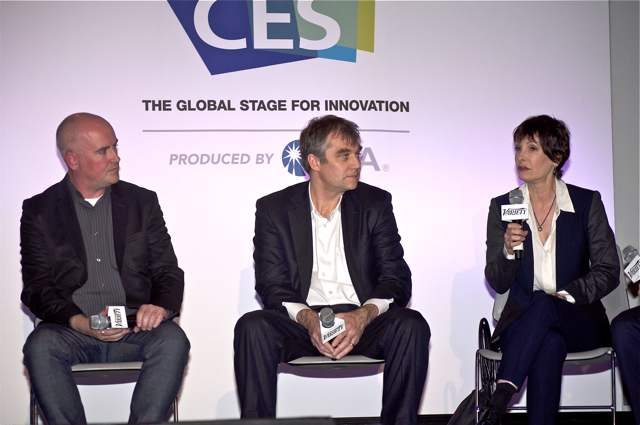 Hurd loves a lot about the device, including the temperature display, the camera and the step counter (she also deep-sixed her pedometer). But what about entertainment?
Fellow panelist Paul Berry, founder and CEO of RebelMouse (not pictured), predicts that all it will take is a potent game or augmented reality app to jumpstart a smartchwatch media ecosystem. Here, Hurd shares her opinions with fellow panelists Thomas Gewecke, chief digital officer and EVP strategy and business development at Warner Bros., and Steve Power Brown, chief evangelist and futurist, interaction & experience research of Intel Labs.
Brown's interests are less mundane. He is jazzed about a robot named Jimmy that you can download — brain and all — and print in 3D.
At Variety's "The State of the New TV Business: What Comes Next?" panel at CES on Wednesday, TV executives from across the spectrum highlighted the impact of new technologies in brief snapshots.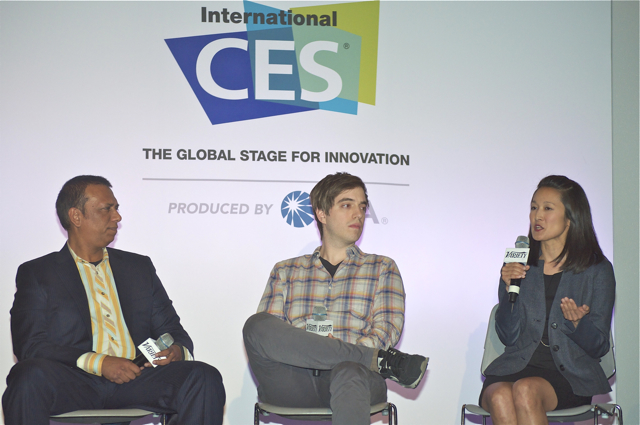 Charlotte Koh, head of development at Hulu (right), talked about the importance of data to personalizing the delivery process and to selecting and shaping new content — but not in the early stages of development, which she believes belongs to artists.
Jake Katz, VP audience insights and strategy at Revolt TV (center) described how trending topics fuel new programs at his young music network, sometimes within hours of initial postings on social media. Data was also top of mind for Manish Jha, general manager mobile for NFL, who explained that the league was using location-based information to deepen its knowledge of its fan base, especially those without a home team.
Topics:
2014
,
3D
,
App
,
Apple
,
AR
,
Augmented
,
Berry
,
Brown
,
Business
,
Camera
,
CEA
,
CES
,
Consumer
,
Delivery
,
Development
,
Electronics
,
Game
,
Gewecke
,
Hulu
,
Hurd
,
Intel
,
iPhone
,
Jha
,
Jimmy
,
Katz
,
Koh
,
Las Vegas
,
NFL
,
Panel
,
Pedometer
,
Phone
,
Print
,
Reality
,
RebelMouse
,
Revolt TV
,
Robot
,
Samsung
,
Show
,
Siri
,
Smart
,
Smartphone
,
Smartwatch
,
Television
,
Trend
,
TV
,
Valhalla
,
Variety
,
Video
,
VOD
,
Voice
,
Warner
,
Watch