As we continue to contend with a global pandemic that has led to numerous changes involving remote work and learning, telemedicine, home fitness, social distancing, online shopping, and more, it should come as no surprise that devices and services showcased at this year's all-digital CES focused on a range of COVID-related issues. From high-tech masks designed to comfortably combat spread of the coronavirus and sensors that alert wearers of flu-like symptoms, to robots that disinfect work spaces with UVC light and televisions that take personal training to a new level, many companies touted wares for the COVID era consumer.
Below are links to articles that our editorial staff found of particular interest in these areas:
CES 2021 Showcases Masks, Sensors and Other Tech to Help Fight COVID-19
CNET examines masks, disinfectants, air purifiers and touchless technology. Highlights include robots and masks that use UV light as a disinfectant, various air purifiers, touches video doorbells and toilet flushers, and a new wave of smart masks. "Perhaps the flashiest mask on the show floor came from gaming computer and accessories maker Razer. That company announced Project Hazel (pictured below), a transparent mask with a built-in microphone, lights and speaker that help people to more easily see and hear you when you talk."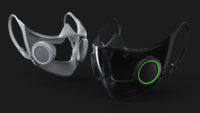 Razer's High-Tech Face Mask Filters Air and Amplifies Your Voice, Bane-Style (Digital Trends)
CES 2021 Showed Us How Robots Can Ease Our Pandemic Woes (CNET)
CES 2021: These Giant Robots Can Disinfect Classrooms and Offices with UVC Light (CNET)
The Future of Work From CES: The Headquarters at Home (Computerworld)
The Home Fitness Tech That Will Help Us Stay Active in 2021 (Engadget)
The Pandemic Was Top of Mind in the Tech of CES 2021 (TechCrunch)
Personal Training Stays Home at CES 2021 (CNET)
Once gyms closed due to the pandemic, consumers rushed to find home solutions and Peloton, Mirror (pictured below), YouTube training videos, Zoom workouts and fitness apps became the new alternatives for many. "And now, legacy companies like NordicTrack and Bowflex are responding to the new kids on the block with new products and services that the two companies showed off at CES 2021." CNET also looks at solutions such as ProForm Vue, Echelon Reflect, Tonal, Tempo and iFit ActivePulse.
Samsung's New TVs Can Track Your Workout Reps and Form (Engadget)
"A new feature in the company's just-announced Q7-series sets called Smart Trainer uses a camera to help count each pushup and analyze your form. It's part of the Samsung Health app that launched on the company's TVs last year, and this year's Q70A models and up (including 8K TVs) will get the new feature. To be clear, these screens don't have cameras built in — you'll have to attach your own sensor for the system to 'see' you."
Tech Industry Uncovers New Ways to Mask Up Against COVID-19 at CES 2021 (CNET)
This Year's Crop of Robots at CES 2021 Is All About Fighting COVID-19 (TechRepublic)
CES Goes Full Pandemic with Smart Masks, Stickers to Detect COVID and the Biggest Wi-Fi Update in Years (The Washington Post)
"The pandemic has given millions of Americans a new online normal that would have sounded far-fetched just two years ago. Now many of us go to work, school, doctor's visits, yoga classes, parties, weddings and even funerals in front of cameras and screens. A quarter of Americans are tracking vitals on smartwatches and fitness trackers. A good Wi-Fi connection has become nearly as important as electricity."
Dishwashing Robots and Bluetooth Masks: Pandemic Products Hit Tech's Biggest Show (CNN)
Click here for more information on the speakers, panels and new products at CES 2021 (#CES2021).
Topics:
Air Purifiers
,
Apps
,
Bowflex
,
CES
,
CES 2021
,
Coronavirus
,
COVID-19
,
CTA
,
Echelon Reflect
,
Fitness
,
Health
,
iFit ActivePulse
,
Masks
,
Mirror
,
NordicTrack
,
Peloton
,
Personal Training
,
ProForm Vue
,
Project Hazel
,
Razer
,
Remote Learning
,
Remote Work
,
Robotics
,
Samsung
,
Sensors
,
Smart Masks
,
Social Distancing
,
Telemedicine
,
Televisions
,
Tempo
,
Tonal
,
Wearables
,
YouTube
,
Zoom