The Sundance Film Festival, a pioneer in showcasing virtual reality content with its New Frontier exhibition, partnered with Active Theory to build a VR platform that attendees can access with or without a headset. Sundance New Frontier curator Shari Frilot noted that building a virtual solution for New Frontier "solved so many problems we were having and struggling with on the ground." Anyone will be able to access the platform by logging onto the website via a Sundance festival pass, including the $25 Explorer Pass.
Engadget reports that, with the headset, "it just looks like you're stepping into a cinephile version of 'Second Life'" but with an Oculus Quest or any other PC-powered VR headset the user is "launched into an immersive WebXR experience." It reports that, "the VR avatars are basic, with simple arms and legs, along with bulbous heads … but those tuning in from PCs can also flip on their webcams, which fills their avatar's heads with a live video feed."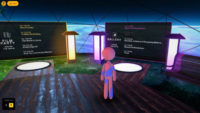 VR rooms also offer spaces to "sit and hang out with friends." Not all the films will be viewable in VR, but "attendees will still be able to watch five special features in the Cinema House, a fully realized VR theater" (although it lacks chat functionality).
Sundance New Frontier has 14 exhibitions this year, fewer than half of last year. Among them are "Space Explorers: The ISS Experience" developed by VR creators Felix & Paul. The VR platform, it says, "goes a long way towards making Sundance more accessible."
CNET notes that, "New Frontier helped put virtual reality on Hollywood's map." In the virtual Sundance Film Festival, "roughly half the projects need only a computer or a phone to check out." Among the rest, some can be watched with untethered headsets (Oculus Quest 1 or 2) and the rest "require a higher-octane headset tethered to a desktop."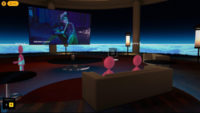 In addition to experiences like "Among the Space Explorers," the virtual environment will "serve other festival purposes too, like mingling and parties." "Your avatar is simple floating geometry, topped with a circle that features your uploaded picture," it says, noting that "virtual environments include a space garden entryway to get oriented, and then three main community spaces: Film Party, Cinema House and the New Frontier Gallery."
The space garden is where users set up their avatars and "get accustomed to the mechanics of moving around in this virtual world," and the Film Party is the locale for post-premiere virtual parties where the photo circle on the user's avatar turns into a live webcam feed. Cinema House is the venue "exclusive for people using VR headsets … [that] re-creates the concept of watching a movie communally in a theater."
The New Frontier Gallery, it says, is "the most freeform community space." Inside the Gallery is "do {not} play," an "unstructured playground … [that] puts live video chats inside interfaces that are much more fun than your standard Zoom gallery."