The Consumer Electronics Association raised the curtain on the 2015 International CES Sunday afternoon with media-only presentations on Trends to Watch this year and a comprehensive briefing on the State of the Consumer Tech Industry. Shawn Dubravac, CEA's chief economist, shared business trends, market forces and consumer dynamics behind the technology on display at the 2015 CES. Steve Koenig, CEA's director of industry analysis, said consumer tech spending for 2014 is estimated at $1.024 trillion.
ETCentric previewed Dubravac's report after his December 4 briefing to ETC members. Dubravac views 5 pillars to our current digital destiny, which is also the title of his new book. The pillars are: ubiquitous computing, cheap digital storage, connectivity, proliferation of digital devices, and "sensor"ization of tech.
The trends to watch this year and in the months to come include the digitization of our physical space, the permeation of logic (more contextual and intelligent results), the "Internet of Me" and fragmented innovation.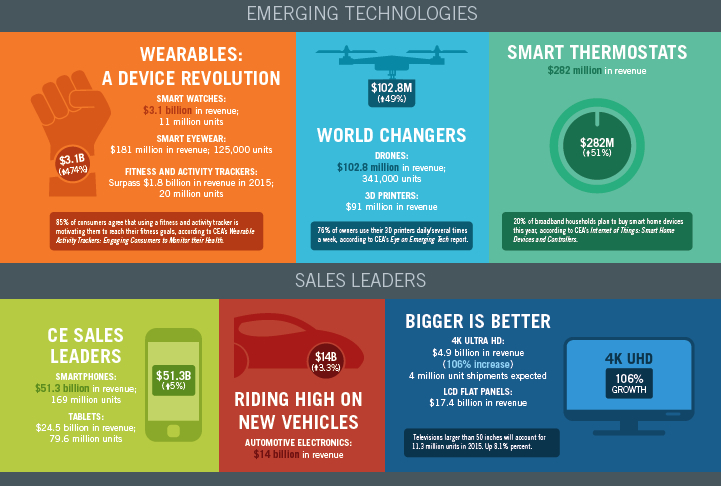 Following Dubravac's look into the near and not so distant future, Steve Koenig delivered hard numbers in his annual report of the State of Consumer Tech. Double digit growth in developing markets, especially emerging Asia, offsets flat or declining spending in the most mature markets, although North America is regaining market share.
Total consumer tech spending for 2014 is estimated at $1.024 trillion, with a shift to lower cost devices in emerging markets pulling down average spend per person.
Koenig borrowed the title of the classic Western movie, "The Magnificent Seven," to describe the seven device categories that account for more than 80 percent of all consumer tech sales. Smartphones, mobile phones, LCD TVs, mobile PCs, desktop PCs, digital still cameras and tablets are the star products. Tablets and smartphones are the superstars, expected to represent 46 percent of sales.
Revenue figures do not fully represent the adoption picture. Prices continue to drop as low cost products enable access to a greater number of people all over the world. This is especially true in three very hot areas of consumer tech: smartphones, tablets and Ultra High Definition televisions.
China, by far, is leading the way with more people leapfrogging past PCs, for example, to adopt smartphones as their primary device and UHD as their large screen video preference.
On the subject of televisions, average screen size around the world is now 41 inches. This is compared to 33 inches just seven years ago.
CEA makes both of these presentations available so you can read the full reports: