At CES Unveiled, the wearable manufacturers from the 2104 International CES were back… and they were joined by a dizzying number of new products. The majority of wearables are again focused on fitness and aimed at a demographic that exercises and is digitally plugged-in. At last year's CES, wearables were a major hit; this year, the rush to innovate has produced more products and solutions than the space can ever support. Today wearables galore; tomorrow, the shake-out.
More manufacturers are targeting women this year, with stylish watches and jewelry. Mira calls itself "a stylish bracelet, activity tracker and mobile app" that also offers fitness encouragement, tips and advice. Zensorium, Griffin, Misfit and Withings likewise have a range of colorful and chic watches and pendants.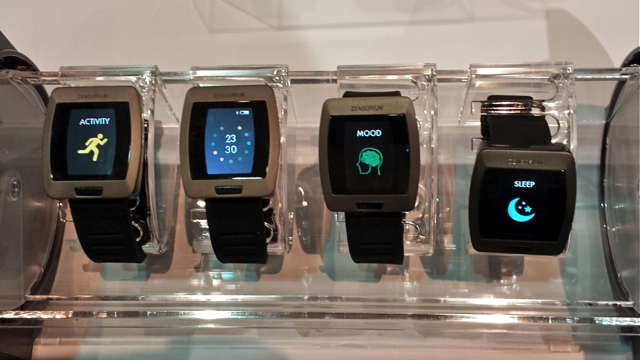 Other manufacturers are branding themselves by offering an increasing array of monitored metrics. GoBe calls itself a "100 percent automatic body manager" for calorie intake, activity level, heart rate, hydration levels, blood pressure, stress levels and several other options. InBody Band not only offers a real time activity tracker with heart rate information, but also is a body composition analyzer.
AmpStrip is an adhesive strip, the size and shape of a Band-Aid for 24/7 heart rate monitoring. Another wearable — Ring — is, as the name suggests, a silver metal ring that is a cloud control device, using gestures to interface with games and home electronics.
The 2015 CES is highlighting wearables aimed at health. Linx IAS (below), a product of BlackBox Biometrics, is a small flexible sensor which, when worn on the scalp and held in place by a band, monitors concussions (IAS refers to Impact Assessment System). Developed at the Rochester Institute of Technology, Linx IAS targets athletes.
Another health wearable comes from Valedo, which uses wearable sensors and a mobile app to give backache sufferers a program of exercises while tracking progress. Siemens is showing binax, its smart hearing aid.
Cameras are also now wearables, and not just on a helmet or headband. Narrative Clip 2 can clip on to a piece of clothing and Liquid Image now enables output from its Ego LS camera to stream over Verizon's 4G LTE network.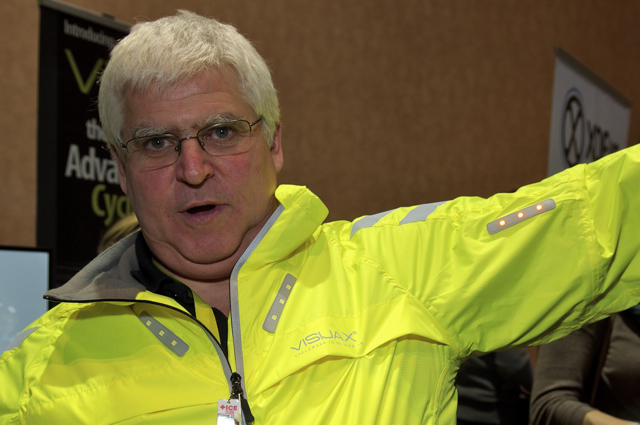 Bicyclists might like the Visijax jackets with motion-sensitive signaling (above). Raise your arm, and the LED lights on the jacket blink the direction you're turning. For hikers who go to remote spots, goTenna is a wearable that pairs wirelessly with your smartphone, enabling you to text and share your location even if you don't have cell service.
Finally, a wearable for pets: Tagg is a GPS-enabled device that easily attaches to a dog's collar, and allows the pet's owner to track its location and activity.