Though not the driving force they once were, TVs are still a staple at CES. This year's show is overflowing with display technologies like microLEDs and curved OLEDs from high-end to budget manufacturers alike. The "Smart" moniker has been just as ubiquitous. Thanks to beefier processors, additional sensors, the cloud and Dolby, however, "Smart" is no longer just an alias for "Internet-Ready." Multiple manufacturers are showcasing technologies meant to marry personalization with creative intent while establishing a new digital gateway for the home.
Since last year's show, Sony has emphasized its ability to deliver "creative intent" to users as a key message across all their platforms. For TVs, its Picture Processor X1 Ultimate is at the heart of these efforts. The chip powers object-based resolution and HDR remastering, motion smoothing and ambient optimization. Ambient optimization attempts to optimize picture (and audio) settings to the user's environment while maintaining the creative intent.
Dolby itself is working to make that possible across manufacturers with its debut of Vision IQ. Built on top of its Dolby Vision HDR standard, Vision IQ seeks to play a key role in understanding the environment around the TV as well as the content on the screen to enable personalization and enhance the viewing experience while maintaining the HDR standard. Dolby Vision IQ will be available at LG and Panasonic sets at launch.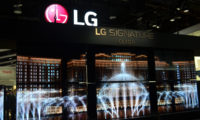 With efforts from LG and others to continue connecting various appliances in the home, these manufacturers could be positioning themselves as digital gatekeepers, an intermediary between users and digital marketplaces. An interesting example of this is Samsung's Universal Guide. Launched last year, the Guide received a few upgrades at this year's show.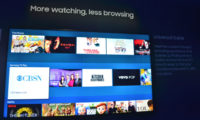 The goal of the Guide is to provide a better browsing experience than traditional OTT services, while allowing access to multiple platforms. It uses AI-based algorithms to understand the content users watch as well as what services they use. It recommends content first and then provides availability information.
Because the Guide interacts directly with users and hooks into multiple services and marketplaces, it provides a very rich data source that could be mined. It also represents a significant pathway to influence consumers on content and products.
Related:
Dolby Vision IQ Uses a TV's Light Sensors For More Accurate Picture Quality, Digital Trends, 1/7/20
Dolby at CES 2020: Dolby Vision IQ and Dolby Atmos Music Launched, Improving on Existing Tech, Gadgets 360, 1/9/20
CES 2020 News: Is Dolby Vision IQ the Next Step in Image Immersion?, AV Forums, 1/7/20
Topics:
Algorithms
,
Artificial Intelligence
,
Audio
,
CES 2020
,
Cloud
,
CTA
,
Curved Screens
,
Displays
,
Dolby
,
Dolby Vision IQ
,
HDR
,
Internet
,
LG
,
MicroLED
,
OLED
,
OTT
,
Panasonic
,
Personalization
,
Picture Processor X1 Ultimate
,
Processors
,
Rollable Screens
,
Samsung
,
Sensors
,
Smart TVs
,
Sony
,
Television
,
Universal Guide
,
Video