If you were looking for a break from CES this week, DreamlandXR offered a wide range of social and professional events with a focus on immersive entertainment, music and eSports. The festival included an insightful two-day conference of immersive media panels and demos at the Alexis Park Resort. Industry leaders discussed the logistics, management, business models and marketing of XR experiences in location-based entertainment, casino spaces, VR theaters, and more. We were told that videos of all panels will be posted on the DreamlandXR site in the near future.
During a panel on XR in Location-Based Entertainment, Hologate's Gregg Katano stressed the importance of Bushnell's Law: make the experience "easy to play, hard to master." Zero Latency CTO Scott Vandonkelaar added that simplicity is critical — not just simplicity of the experience, but simplicity of the equipment and maintenance.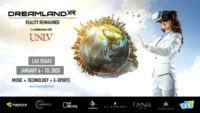 Regarding business models, Vandonkelaar mentioned that Zero Latency's original installation offered a 45-minute free-roaming VR experience for four people in a 5,000 square-foot space. They quickly learned that the model was not sustainable, and he said, "our accountant told us to work on throughput."
Jonathan Delgado of SPREE Interactive (formerly Holodeck VR) said that his company focuses on developing short games with onboarding under 30 seconds.  
Nick Boyer of CityLights VR said that they were testing the $50 ticket price point for Darren Aronofsky's "Spheres" when they scheduled their 45-day run at Rockefeller Center in early 2019. The entire run sold out in nine days. They found that most of their sales were online and the result of targeted social media advertising. Very little business was generated from foot traffic. People went out of their way to go to Rockefeller Center for "Spheres," leading CityLights to conclude that physical location really doesn't matter if the attraction has market appeal.  
CityLights' current King Tut experience, "Tutankhamun: Enter the Tomb," which runs eight minutes for a $20 ticket, has been both a critical and financial success. Audience throughput was a key design driver. 
Yoni Koenig, VP of marketing for VRstudios, offered a wish list for LBE of standardization, tying the cost of production to the ticket price and revenue expectations, and understanding better how to get people to experience XR as a new social experience. 
Robert Rippee, director of the Hospitality Innovation Lab at UNLV, asked his panel "what happens with the casino space when XR moves the experience into the room?" He noted that 40 states are currently considering legalizing sports betting.
Hollywood Portfolio's Mariana Danilovic, who sits on the board of SuperWorld, noted that young people don't play slots, so the casino floor is going to have to be disrupted or die. Professor Rippee pointed to The Drew Las Vegas, which is set to open in 2022, as an example of a resort complex being designed to test ideas for the next generation of Las Vegas casino guests — for Millennials and beyond.  
I was onstage for a one-on-one discussion with MediaTech Ventures' Ted Cohen to discuss the future of immersive experiences in general. I suggested that if you are talking about how to get people to "use VR," then you've already lost. You want the technology to disappear into the experience. When you have done that, then engagement becomes a key consideration, encouraging return visits and ongoing revenue opportunities. 
Cohen reminded the audience that before there was immersive multipath storytelling in its current digital form, you could follow individual live theater actors through a story in "Tamara" (1980s) and you could control a branching narrative on CD-ROM with "Voyeur" (1990s). We both discussed developments in autonomous characters, free-range story exploration, concerts and other social experiences.
The Stanford XR Society had a table in the DreamlandXR demo area. They are hosting a multi-school ICXR event sometime in the spring, similar to the event that the USC XR student group, XRSC, hosted last year. The ETC will post more information about it when their plans solidify.
Topics:
Casinos
,
CES 2020
,
CityLights
,
Darren Aronofsky
,
DreamlandXR
,
eSports
,
Extended Reality
,
Gregg Katano
,
Hollywood Portfolio
,
Holodeck VR
,
Hologate
,
Jonathan Delgado
,
Las Vegas
,
LBE
,
Mariana Danilovic
,
MediaTech Ventures
,
Music
,
Nick Boyer
,
Robert Rippee
,
Scott Vandonkelaar
,
Spheres
,
SPREE Interactive
,
SuperWorld
,
Ted Cohen
,
UNLV
,
Virtual Reality
,
VRstudios
,
Yoni Koenig
,
Zero Latency