Chinese developer Pimax first announced an 8K VR headset in 2017, but missed its initial 2018 release date. At CES 2020, the company made good with the launch of the Pimax 8K X, tapped by Digital Trends as its AR/VR top trends winner. The Pimax 8K X headset offers 8K resolution and a 200-degree field of view, beyond the specifications of Oculus Quest and the Valve Index. Reviewers have noted that the 8K resolution makes a "noticeable different in image sharpness," including "crystal clear" fine text and other details.
Digital Trends, in describing why it honored Pimax with the "top trends" honor, reports that, "the increased field of view doesn't stand out at first, but you'll appreciate it once you settle in … [because] a broader FOV means you can rely on your peripheral vision." The headset can be used with SteamVR and Oculus platforms and "is compatible with Valve Index base stations and controllers.
The Pimax 8K X is available to order now for $1,299, and new orders will ship this spring. Its Kickstarter campaign raised over $4.2 million from 6,000 backers.
Elsewhere, Digital Trends reviews the finished product, calling it a "glorious" device, that dominates the competition with its two 4K displays and 90Hz refresh rate. "It's a huge leap from playing 'Elite Dangerous' on the Oculus Rift DK1, where interface details were often headache-inducing to read," says the reviewer. "It's a smaller leap over the Valve Index, but still noticeable."
With regard to Pimax's 200-degree field of view, the reviewer compares it with Oculus Quest's 90-degrees and Valve Index's 130-degrees. "To me, it's not a night-and-day difference, but it does lead to a more natural, less claustrophobic experience," he says. The 8K resolution requires "an extremely powerful system," with Pimax recommending a Nvidia RTX 2080 for full 8K mode.
The headset also "offers Dual Engine Mode, which can lower the render resolution to 2,560 x 1,440 per display and then upscale that to 4K … [and] Upscale Mode is the only way to achieve maximum 90Hz refresh rate … and reduces the recommended graphics card to Nvidia's RTX 2060."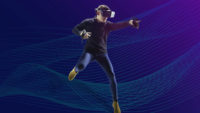 UploadVR reports that Pimax also offers a lower-cost option, the Pimax Artisan with "a 140 degree field of view, 1,600 x 1,440 per eye resolution, and three supported refresh rates: 72Hz, 90Hz, and 120Hz." The headset, with LCD panels, has a starting price of $449 and reportedly bundles the Nolo positional tracking system (probably for an additional price).
Nolo is a front-facing tracking system "so it likely lacks the robustness of Oculus Insight or SteamVR Tracking … [but] Artisan has full support for SteamVR Tracking though, so you should be able to add positional tracking and Index controllers from Valve for around $577 extra."
With additional gear, "the total cost of an Artisan, base stations, and Index controllers [would be] around $1,026, almost the same as the Index full kit." Compared to the Index, Artisan has a wider field of view but Index has a "higher maximum refresh rate (144Hz) and significantly better built in audio."
Topics:
4K
,
8K
,
90Hz
,
Audio
,
CES 2020
,
China
,
CTA
,
Displays
,
Elite: Dangerous
,
Field of View
,
Gaming
,
Headsets
,
Kickstarter
,
LCD
,
Nolo
,
Nolo Positional Tracking
,
Nvidia
,
Nvidia RTX 2080
,
Oculus Insight
,
Oculus Quest
,
Oculus Rift DK1
,
Pimax
,
Pimax 8K X
,
Pimax Artisan
,
SteamVR
,
Valve Index
,
Video
,
Virtual Reality
,
VR Headsets