Steve Koenig, director of industry analysis for the Consumer Electronics Association, presented the organization's annual "State of the Global CE Industry" press event at CES. Koenig explained that worldwide sales of consumer electronics grew 3 percent last year to a new record of $1.068 trillion, but growth is expected to remain flat or decline by 1 percent in 2014. Sales of smartphones and tablets have tapered off in major markets and Ultra HDTVs are not expected to gain significant traction until at least 2017.
"At issue are maturing markets in North America, Japan and Western Europe, which aren't showing much growth anymore since consumers there have already upgraded to the newest devices," reports Variety. "Instead, the industry has its eye on Central and Eastern Europe, Latin America, China, India, the Middle East and Africa as future bright spots."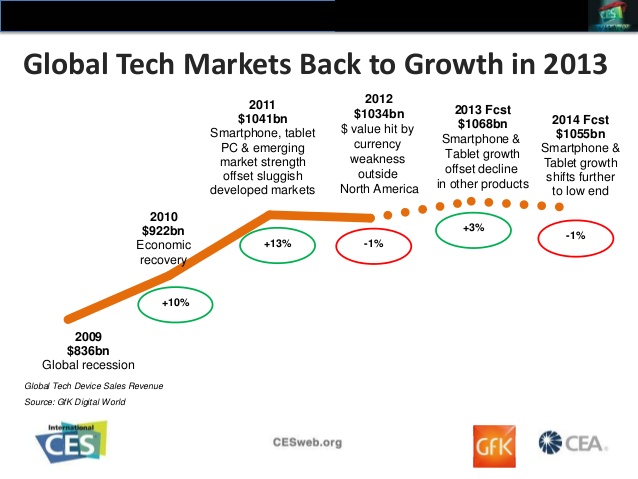 Koenig suggested that North America's market share has peaked, at least for now, while the biggest growth markets are predicted to be the Middle East, Africa and Latin America.
"Not surprisingly, the CEA is still bullish on China, not only because of its massive population (there are 160 cities with over 1 million people, versus nine in the U.S.), but studies have found that Chinese citizens are only eager to open their wallets in the coming year," notes Variety. "This year, 61 percent of consumers in China plan to spend more over the next year on smartphones, tablets, headphones, TVs, and mobile computing, with 90 percent saying technology provides them with the tools they need to succeed in life. In the U.S., that sentiment is beloved by 75 percent."
Although smartphones and tablets are expected to continue their domination in consumer tech spending (projected to account for 43 percent of spending in 2014), Koenig said nearly every other category of CE tech is declining — and consumers are increasingly seeking simpler, cheaper versions of phones and tablets.
"Within tablets, 66 percent of devices sold will have screens smaller than 9 inches," reports the Los Angeles Times. "Koenig pointed to this as another reason why overall spending has hit a wall: Consumers in all markets are simply opting for smaller gadgets."
Koenig suggested a number of key areas that could become new sales drivers, including Ultra HD TVs, curved displays, OLED TVs, 3D printing, wearable technology such as smartwatches, and "the greater connectivity of devices."
"The industry is waiting for the next wave of innovation," he said.
The complete "State of the Global CE Industry" slideshow is available on the CEA blog.
Topics:
3D
,
4K
,
Africa
,
America
,
Association
,
CEA
,
CES
,
China
,
Connected
,
Consumer
,
Curved
,
Display
,
Electronics
,
Europe
,
Event
,
Forecast
,
Global
,
HD
,
India
,
Innovation
,
Japan
,
Koenig
,
Las Vegas
,
Latin
,
Middle East
,
Mobile
,
North
,
OLED
,
Phone
,
Predict
,
Press
,
Printing
,
Sales
,
Show
,
Smartphone
,
Tablet
,
Television
,
Trend
,
TV
,
UHD
,
Ultra
,
Watch
,
Wearable
,
World
,
Worldwide