CBS and Time Warner Cable ended their contract dispute yesterday, restoring CBS, Showtime and related channels to cable subscribers in the New York, Los Angeles and Dallas markets. For one month, the two sides had been locked into a debate regarding fees related to rights for retransmitting content. Retaining digital rights in order to sell content to online distributors such as Netflix and Amazon was also an issue. CBS and TWC did not release specific information regarding terms of the agreement.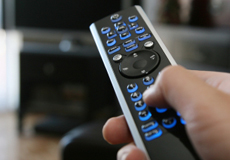 "Executives on both sides acknowledged early in the talks that CBS was seeking an increase to about $2 per subscriber, up from about $1," reports The New York Times.
"We are receiving fair compensation for CBS content," said Leslie Moonves, the company's president, specifically noting additional fees for CBS content and the retention of digital rights.
"This has been a difficult time for our viewers and for CBS," he wrote in an email to employees. "I am glad it's behind us. It's good to be back."
Analysts believe the mounting pressure of the NFL season launching on September 5th had an impact. "Both sides stand to lose if they couldn't reap the lucrative advertising revenues that NFL games generate and face the ire of football fans who were starting to campaign more aggressively for the end of the blackout," reports USA Today.
"We're pleased to be able to restore CBS programming for our customers, and appreciate their patience and loyalty throughout the dispute," said Time Warner Cable CEO Glenn Britt in a statement. "While we certainly didn't get everything we wanted, ultimately we ended up in a much better place than when we started."
"The rules are woefully out of date, are the primary reason cable bills are rising," according to Britt. "We sincerely hope that policy makers heed that call and take action to prevent these unfortunate blackouts soon."
Topics:
Advertising
,
Agreement
,
Amazon
,
Blackout
,
Britt
,
Broadcast
,
Cable
,
CBS
,
Contract
,
Dallas
,
Dispute
,
Distribution
,
Football
,
LA
,
Los Angeles
,
Netflix
,
Network
,
New York
,
NFL
,
NYC
,
Premium
,
Provider
,
Retrans
,
Retransmit
,
Rights
,
Showtime
,
Sports
,
Stream
,
Streaming
,
Subscribe
,
Subscriber
,
Television
,
Texas
,
Time Warner
,
Transmission
,
TV
,
TWC
,
Video