Aereo, the controversial startup that captured over-the-air cable TV without paying licensing fees and allowed subscribers to watch the content on multiple devices, filed for Chapter 11 bankruptcy in November. A bankruptcy court in New York has approved the dismantling of the company, with its assets to be auctioned to the highest bidder. The auction is scheduled for February 24, and the broadcasters that initially complained about Aereo's business model will have two weeks to decide whether they approve of any sales.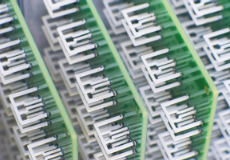 "Aereo wasn't paying licensing fees to the content owners, but because they were leasing each user their own unique OTA antenna for content that was broadcast over the air for free, they figured what they were doing was technically legal," explains TechCrunch. "Alas, the Supreme Court disagreed. They dropped the hammer on Aereo's business model, effectively killing it instantly."
Interestingly, Aereo made it to 14 cities (and numerous legal battles) before it was forced to shut down. It also saw its subscriptions increase 40 percent during its final six months of existence, although the total was only 108,000 subscribers.
Aereo ceased its streaming operations in June following the landmark copyright case with broadcasters. However, while most of its subscriber growth up until June was a result of expansion to new locations, its early markets also experienced growth that cable companies and Netflix did not.
Broadcasters criticized Aereo's small size, while many analysts criticized whether the antenna model would ever see widespread consumer adoption.
"But the startup's previously unreported growth trajectory shows the potential and threat of streaming services for the traditional TV industry," suggests The Wall Street Journal.
"It's no wonder the same broadcasters who sued Aereo have been raising concerns in bankruptcy court that potential buyers of Aereo's technology could use it against them and once again infringe their copyrights. Major TV channel owners are torn between wanting to participate in the streaming world and protecting their traditional pay TV model, which relies on lucrative relationships with cable and satellite TV providers."
Topics:
Aereo
,
Antenna
,
Auction
,
Bankruptcy
,
Broadcast
,
Broadcast TV
,
Broadcasters
,
Cable
,
Chapter 11
,
Comcast
,
Copyright
,
Court
,
DVR
,
Internet
,
Law
,
Legal
,
Licensing
,
Live TV
,
Netflix
,
Online Service
,
OTA
,
PCs
,
Satellite
,
Smartphones
,
Streaming
,
Subscribers
,
Supreme Court
,
Tablets
,
Television
,
Violation
,
Web TV