BitTorrent has launched its open, ad-supported music and video platform that allows consumers to access media content via apps for Android, iOS and Apple TV. BitTorrent Now is the latest effort to shed the piracy stigma of the popular peer-to-peer technology for more legitimate uses. Up until now, BitTorrent offered free and paywall versions for artists to get their content to people. With the new ad-supported service, artists have an alternative for generating revenue while users can stream their content through an Android app launched yesterday, and iOS and Apple TV apps to follow.
"For several years now, the company has been using its peer-to-peer Internet technology as a platform for independent musicians, filmmakers and other artists to distribute their work," reports Engadget. "The resulting BitTorrent Bundle network has played host to projects from Madonna, comedian David Cross and Radiohead's Thom Yorke as well as a host of smaller, lesser-known people."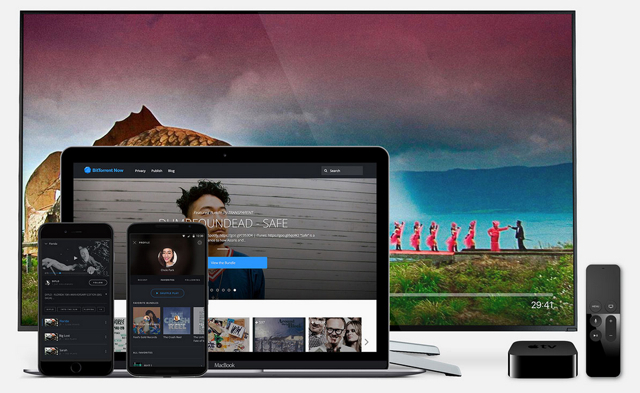 The apps should be more accessible for consumers who no longer need to visit the BitTorrent Bundle website to browse and purchase content.
BitTorrent offers trending tabs and sections for new releases, while its team is working on tools for curating content. The company is also planning to introduce the platform for other set-top boxes in the future.
While artists "could upload their content to a service like SoundCloud, YouTube, Vimeo, or Facebook," explains 9to5Mac, "BitTorrent says that the biggest selling point of the platform to creators is that there are no restrictions. They can upload whatever they want, in whatever format they want."
"The company says that more than 30,000 artists have released content with the old BitTorrent Bundle program, with a whopping 200 million fans having used it to watch a film or download some music in the past," notes Engadget. "That's an impressive number when considering the fact that BitTorrent has never had a Beyonce or Taylor Swift-level release."
Topics:
Advertising
,
Android
,
App
,
Apple
,
Apple TV
,
Beyoncé
,
BitTorrent
,
BitTorrent Bundle
,
BitTorrent Now
,
David Cross
,
Facebook
,
Filmmakers
,
Indie
,
Internet
,
iOS
,
iPad
,
iPhone
,
Madonna
,
Mobile
,
Movie
,
Music
,
Musician
,
P2P
,
Paygate
,
Peer-to-Peer
,
Piracy
,
Radiohead
,
Set-Top Box
,
Song
,
SoundCloud
,
STB
,
Streaming
,
Taylor Swift
,
Thom Yorke
,
Video
,
Vimeo
,
YouTube