Samsung's Gear 360 virtual-reality camera will roll out at digital video confab VidCon — but only to top YouTube and other digital video content creators. After that event, Samsung will also make the $350 VR camera available for purchase for chosen creators at "select events and activations," with a rollout to consumers planned for later in the year. With its strategy of releasing the camera to an exclusive few, Samsung hopes to jumpstart the creation of VR content and increase buzz for the upcoming consumer release.
Variety reports that in anticipation of the rollout Samsung has partnered with YouTube filmmaker Casey Neistat, who specializes in action footage, created the popular "Snowboarding With the NYPD" this past winter and has 3.4 million subscribers. In addition to Neistat, Samsung will show "a curated selection of VR content" at VidCon.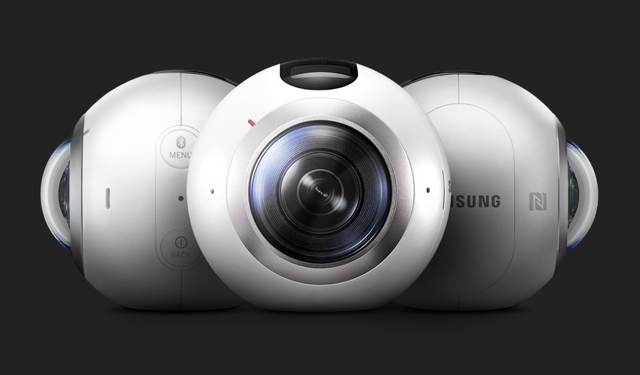 Currently, there's a paucity of VR content and Samsung's camera — and its launch strategy — aims to enable VR content production and, in the process, create more incentive to buy Samsung VR headsets and mobile devices.
"We want to bring the power of VR technology directly to the people," said Samsung Electronics America's chief marketing officer Marc Mathieu. "To help creators learn and perfect the art of VR storytelling, we've built an entire VR ecosystem that pushes beyond the frame and empowers them to develop unforgettable, immersive stories, and inspires us all to do the same."
In July, Samsung will also introduce the Samsung Creators competition, with 10 categories: music, auto, science and tech, gaming, travel, fashion, culinary, cause-related, 4D and sports. One winner from each category will receive $10,000, two round-trip tickets and entrance to the Creators Awards ceremony in New York, and a VR filmmaking master class.
Samsung also rebranded the Samsung Milk VR service as Samsung VR. Any user can upload his or her 360-degree videos to the Samsung VR platform for sharing and, for the first time, will be able to view them in the Oculus-powered Samsung Gear VR headset.
Topics:
360 Degree
,
Action Cam
,
Alphabet
,
Camera
,
Casey Neistat
,
Digital Video
,
Fashion
,
Gaming
,
Gear 360
,
Google
,
Headsets
,
Marc Mathieu
,
Mobile
,
Music
,
NYPD
,
Oculus
,
Samsung
,
Samsung Electronics America
,
Samsung Gear VR
,
Samsung Milk VR
,
Samsung VR
,
Snowboarding
,
Sports
,
Travel
,
VidCon
,
Video
,
Virtual Reality
,
VR Headset
,
YouTube