Apple Vision Pro, the $3,499 mixed reality headset announced for release in early 2024, could be getting a B2B marketing push, as evidenced by a recently published Apple post on development apps. That would make competing products in the $3,300 to $5,000 range — including the Microsoft HoloLens and headsets from Magic Leap — Apple's competition for the Vision Pro. That would also leave Meta Platforms and its Quest line, including the $500 mixed reality Quest 3 that began shipping last month, unchallenged in the consumer space, where it currently enjoys an estimated 80 percent market share.
While Apple largely promoted a consumer version of the Vision Pro when it was unveiled in June at WWDC, the price point led to immediate speculation that enterprise customers were its audience. Apple also teased enterprise use cases, including room-scale augmented reality apps.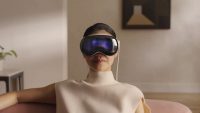 Another mixed reality headset that Apple will compete with in the enterprise space is Varjo, which recently lowered the entry level price for its mixed reality VR-3 headset to $3,645 with the required one-year subscription cost of $795. The higher-end Varjo XR-3 is $6,495 with a $1,495 yearly subscription rate.
While all three companies offer models priced similarly to Vision Pro, HoloLens 2 and Magic Leap 2 "use transparent optics with a much narrower field of view and feature older and weaker CPUs," UploadVR writes, adding that "Magic Leap 2's battery lasts notably longer."
While the high-end Varjo XR-3 series "has somewhat comparable field of view and superior clarity in the central foveal display," it is more expensive, "and has to be cable tethered to an expensive Windows workstation PC." While UploadVR concedes the PC connectivity "does greatly expand the potential fidelity and scope of the software it can run," it also suggests the tethering "limits its usefulness for large collaborative spaces."
During WWDC, developers PTC and JigSpace were mentioned, and Apple recently published a developer spotlight on those companies to showcase their use of Vision Pro.
UploadVR writes that "PTC has been making CAD software for over 30 years and remains one of the market leaders," while JigSpace "claims it already has the 'world's highest rated AR app' on iPad," which "lets you import 3D models and customize and animate them in 3D presentations that can include images, audio, text labels, and more."
Meanwhile, CNET writes of its experience using Apple's "Spatial Video iPhone camera feature, now available in Apple's new iOS 17.2 public beta, with the final version rolling out in 17.2 later this year" for use with the iPhone 15 Pro camera. The resultant video, of sushi hovering in front of the reviewer was displayed "in beautiful 3D on Apple's Vision Pro headset," where the writer determined "it looks vivid. It looks real," adding that "the amazing part is the video was user-generated minutes earlier."
Related:
Apple Vision Pro 2 Leak Reveals What's Coming Next for Apple's Headset, TechRadar, 11/11/23
Project Alaska: Apple's Second-Generation Vision Pro Headset, MacRumors, 11/10/23
Apple Allowed Some Press to View Their Own Spatial Videos in Vision Pro, 9to5Mac, 11/10/23
Topics:
3D
,
Apple
,
Apple Vision Pro
,
AR Headset
,
Augmented Reality
,
B2B
,
Enterprise
,
Headset
,
HoloLens 2
,
iOS 17.2
,
iPhone 15 Pro
,
JigSpace
,
Magic Leap 2
,
Meta Platforms
,
Meta Quest
,
Microsoft
,
Mixed Reality
,
Project Alaska
,
PTC
,
Spatial Video
,
Varjo VR-3
,
Varjo XR-3
,
Virtual Reality
,
Vision Pro
,
Vison Pro 2
,
WWDC