At yesterday's "Hello Again" event in Cupertino, Apple announced its redesigned MacBook Pro featuring an OLED touch strip that the company has named Touch Bar. Apple's lightest and thinnest MacBook yet, available in 13- and 15-inch versions, also features a larger Force Touch trackpad and Touch ID fingerprint scanner. A new 5K monitor from LG connects to the new laptop. Additionally, the company revealed its latest app for the Apple TV box, simply named "TV," due in December. The app showcases content from the apps users already subscribe to, such as HBO Go, Hulu, iTunes and Starz.
"It will completely change how you watch TV with your Apple TV as well as your iPhone and iPad," said Apple CEO Tim Cook.
"The app will marry iTunes content with the apps you use to stream TV shows, movies and sports, honing its recommendations to your overall video preferences," reports The Wall Street Journal. "It also will give Siri new abilities to get people streaming video quicker than before."
Content first appears in a section called "Up Next." When you do not finish a movie or TV episode, the titles appear in the "Up Next" section so you can watch from where you left off. Browsing by genre and curated suggestions is also available.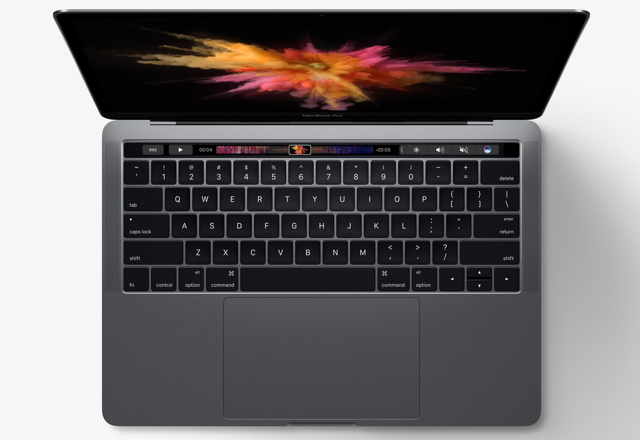 Apple unveiled its new MacBook Pro laptop at the press event, in addition to a new computer monitor. The LG Ultrafine 5K monitor was developed to be compatible with the updated MacBook models. The new entry-level MacBook Pro runs $1,499, while the 13-inch model with TouchBar is $1,799. The 15-inch version starts at $2,399.
While pricing and full specs have yet to be revealed, the LG monitor offers "5K resolution, a wide range of color, four USB-C ports, and at least one built-in camera (and possibly more)," explains CNET. "It can connect to your MacBook using a single cable and, since it's USB-C, that same cable can also be used to charge it."
The MacBook Pro, meanwhile, touts a new aluminum design, a much larger Force Touch trackpad, a 67 percent brighter screen, and a second-generation Touch ID fingerprint scanner. It is also significantly lighter and smaller than its predecessor.
"While laptops are traditionally more profitable for Apple than the iPad, customers often spend more on films, music and apps with the iPad, making it a long-term moneymaker," suggests Bloomberg. "The new MacBook Pro has a Touch ID fingerprint scanner which makes it easier to buy online using the Apple Pay payments system."
However, the star of the show was clearly Apple's new Touch Bar. "A new OLED Retina display with gesture support and multi-touch replaces the function key row on Apple's keyboard," notes BGR. "It's awesome."
"The Touch Bar gives users access to all the standard function key functions so nothing is lost, but it also adapts to each app that you're in. It can also provide new surfaces and controls for certain apps. For example you can scrub through a video in Final Cut or flip through images in the Photos app by sliding your finger along the photos on the Touch Bar."
According to TechCrunch, "the product hits the perceived sweet spot for customers who have been eyeing an Air, but are looking for something with a bit more muscle under the hood, coupled with the Retina Display they've long been dreaming of."
Topics:
5K
,
Apple
,
Apple Pay
,
Apple TV
,
Camera
,
Cupertino
,
Fingerprint Scanner
,
Force Touch
,
HBO GO
,
Hulu
,
iPad
,
iPhone
,
iTunes
,
Laptop
,
LG
,
MacBook Air
,
MacBook Pro
,
Monitor
,
Movie
,
Music
,
OLED
,
Retina Display
,
Siri
,
Sports
,
Starz
,
STB
,
Television
,
Tim Cook
,
Touch Bar
,
Touch ID
,
Trackpad
,
TV
,
TV Show
,
USB-C
,
Video