Microsoft has debuted Surface Studio, a desktop personal computer that transforms into a digital drafting table — and the company's first desktop PC. Surface Studio is an all-in-one-PC that sports an aluminum body with a 28-inch screen on top of a stand. An accessory device, dubbed Surface Dial, is an add-on to the mouse, for a more precise way to zoom into images. The company also revealed that an upcoming update to its Windows 10 operating system will make it easier to create, manipulate and view 3D objects.
The New York Times quotes Microsoft corporate VP Panos Panay as saying, "This is a product that we believe truly brings out the creator in all of us." Surface Studio's screen boasts 13.5 million pixels, and the base of the computer houses a Core i5 or Core i7 quad-core processor, up to 32 gigabytes of RAM, and a 2.1 surround sound system.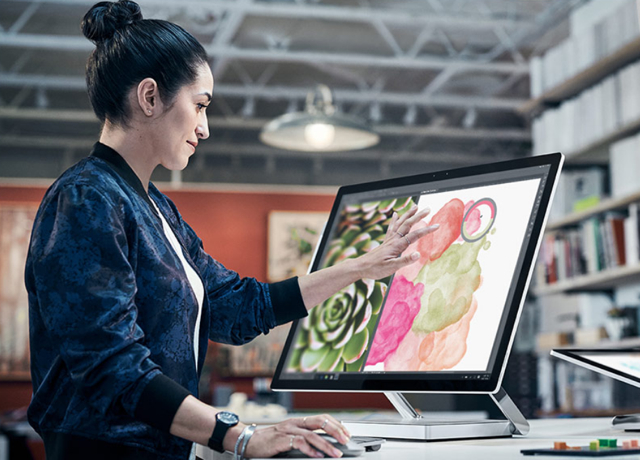 The new touch-sensitive Surface Studio doesn't come cheap, however; it's priced at $2,999, and is slated to go on sale "in limited quantities this holiday season."
Wired suggets the Surface Studio's "most unique trait is that the whole screen tilts down on a four-point hinge to become a tabletop touchscreen PC … it doesn't tilt down totally flat, but it sits at about a 20 degree angle, which seems like a natural amount of tilt for drawing, drafting, and swiping things around on the screen."
The Surface Dial, if placed on the screen, "automatically brings up a context-aware menu" and a "haptic engine inside the Surface Dial makes it feel like a real mechanical piece." Running on two AAA batteries, Surface Dial "communicates to the computer via BT LE." It comes with Surface Studio through December and afterwards is a $99 option.
Surface Studio is also very, very thin. According to Panay, the company redesigned the screen's internals from the ground up. The touchscreen LCD is 1.3 millimeters thick, and the computer itself 12.5 millimeters thick overall. The device weighs 13 pounds.
Forrester Research analyst J.P. Gownder said the new PC will let Microsoft "participate in the high end of the PC market, where profit margins tend to be fatter."
"Without the vision that the Surface team has provided, frankly, the PC industry would be in worst shape than it is anyway," added Gownder, referring to the decline of PC sales. ICD reports that in Q3, sales fell 3.9 percent from the previous year. In the last reported quarter, Microsoft stated $926 million in revenue for Surface, a 38 percent boost from the same quarter a year ago.
Microsoft's new Windows update, Windows 10 Creators, is in response to the uptick in 3D imagery created for virtual reality. "We are the company that stands for the builders, the makers, the creators — that's who we are," said chief exec Satya Nadella. "Every choice we make is about finding that balance between consumption and creative expression."
Next holiday season, HP, Dell, Lenovo and Asus are planning to release VR headsets, starting at $299, that will work with Windows 10 PCs.
Topics:
3D
,
All-in-One
,
Asus
,
Bluetooth LE
,
Computer
,
Dell
,
Desktop PC
,
Drafting Table
,
Forrester Research
,
Haptic Engine
,
HP
,
J.P. Gownder
,
LCD
,
Lenovo
,
Microsoft
,
Mouse
,
Operating System
,
Panos Panay
,
Satya Nadella
,
Surface Dial
,
Surface Studio
,
Touchscreen
,
Virtual Reality
,
VR Headset
,
Windows 10
,
Windows 10 Creators