Apple unveiled a new version of iTunes Extras that offers Apple TV users access to bonus content for movies they buy through iTunes. It also enables studios to dynamically update content related to their films. The update comes as Hollywood looks to provide film fans with added incentives to purchase digital movies. In the wake of declining DVD sales, the studios are hoping consumers will turn to digital purchases rather than renting or watching via subscription VOD services.
Apple offers iTunes Extras for several hundred titles, with a new interactive interface designed for Apple TV. The new version is available for Macs and PCs, and the company plans to make it available on its mobile devices when it releases iOS 8 this fall.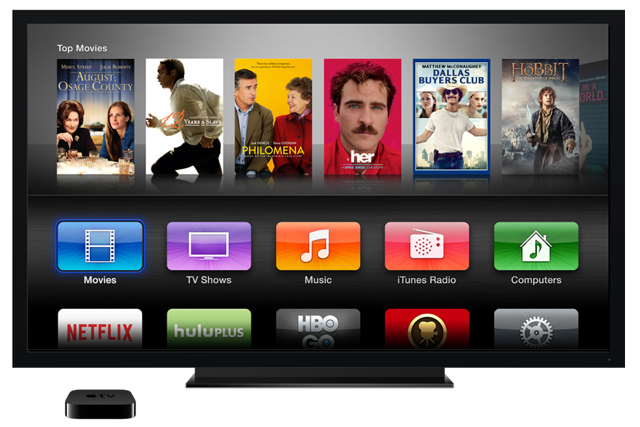 "The Extras content is available with various new releases as well as library titles from several studios, including Disney and Pixar, Fox, Paramount, Sony Pictures Entertainment, Universal, Warner Bros., Lionsgate, Starz Digital Media and A24," reports Variety. "Examples of the bonus content in iTunes Extras include 'Scenes,' which compile highlights of compelling moments in an iTunes movie, such as the musical numbers of Disney's 'Frozen,' the epic battles in Warner's '300: Rise of an Empire' or the songs featured in Sony's 'American Hustle.'"
Additional bonus material includes cast and crew info, still photo and art galleries, actors' perspectives on their roles, behind-the-scenes featurettes and more.
"Studios are especially bullish on the ability with the new version of Extras to add more bonus material over time — with that extra content automatically appearing in iTunes users' existing HD movie libraries," notes the article. "That will promote the value of owning a iTunes movie collections, with the promise of digital goodies in the future, execs said."
The iTunes catalog currently offers more than 85,000 movies. Apple says it has sold 20 million Apple TVs.
Topics:
Apple
,
Apple TV
,
Bonus Content
,
Cloud
,
Digital Movies
,
Disney
,
Downloads
,
DVD
,
Films
,
FOX
,
Hollywood
,
iOS 8
,
iPad
,
iPhone
,
iPod
,
iTunes Extras
,
iTunes Store
,
Library
,
Lionsgate
,
Mobile
,
Movies
,
Paramount
,
Pixar
,
Rentals
,
Sales
,
Sony
,
Starz
,
Streaming
,
Studios
,
Subscription
,
SVOD
,
Universal
,
Video
,
VOD
,
Warner Bros.