Apple rejected Facebook Gaming's submission to the App Store for at least the fifth time since February. Sources said that, with each rejection, Apple referred to its rules that don't allow apps with the "main purpose" of distributing casual games. Apple's App Store is the only officially approved venue for iPhone and iPad owners to find new games (and other programs), which generated about $15 billion in revenue last year. Microsoft president Brad Smith said antitrust regulators need to look at the practices of app stores.
The New York Times reports that the rejections "illustrate the control [Apple] exerts over the mobile software and entertainment ecosystem." Basecamp publicly reported that Hey, its new email app, was rejected by the App Store recently, "because it charged customers outside Apple's payment system," which takes a 30 percent cut.
UPDATE: According to The Verge, "Apple has approved a new version of the subscription email app Hey" ahead of WWDC, in a move "meant to lower the temperature after Apple's initial app rejection drew widespread condemnation from lawmakers and other developers."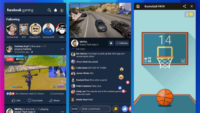 At the European Commission, executive vice president in charge of competition Margrethe Vestager stated that, "we need to ensure that Apple's rules do not distort competition in markets where Apple is competing with other app developers." Basecamp co-founder/chief technology officer David Hansson reported that, "the Justice Department's antitrust division had contacted him earlier to talk about Apple."
Facebook Gaming, announced in April, lets users watch live streams of other people playing games; socially network with other gamers; and play games like "Words With Friends" and "Thug Life." The latter games are delivered on Apple and Android devices via HTML5.
Google approved Facebook Gaming for the Google Play app store on April 20, making it available globally. Facebook submitted the gaming app to Apple in late February and was rejected. In an attempt to gain approval, Facebook "changed the design of the presentation of games in several ways," including removing categories and the ability to sort games. Apple repeatedly said no, citing the same rule.
In its most recent submission, "the Gaming app did not include a separate tab for playable games and included no way for the user to choose from a wide selection of games to play … [but rather] suggested certain games within the user's news and activity feed." With the last rejection, Facebook "is considering releasing Facebook Gaming on Apple devices without playable games … [or] continuing to make playable games even more difficult for users to find within the app."
Bloomberg reports that Microsoft's Smith wants U.S. and European antitrust regulators to "discuss tactics that app stores use to take advantage of those who want to distribute their software," referring obliquely to Apple's App Store. The European Commission has already opened a probe into Apple's policies, noting that, "developers may be forced unfairly to provide a share of app store revenue to the company."
"The time has come — whether we are talking about D.C. or Brussels — for a much more focused conversation about the nature of app stores, the rules that are being put in place, the prices and the tolls that are being extracted and whether there is really a justification in antitrust law for everything that has been created," said Smith.
Related:
The Internet's Most Censored Space, The New York Times, 6/17/20