Former Google executive in charge of advertising Sridhar Ramaswamy has launched Neeva, a search engine that will not show ads or collect information about users. At Google, Ramaswamy became disillusioned by how the need for constant growth disadvantaged consumers. He decided to leave shortly after questionable videos featured ads — automatically served by Google's algorithms — for Deutsche Bank, Amazon, eBay and Adidas. His epiphany was that "an ad-supported model had limitations."  
The New York Times reports that Neeva "looks for information on the web as well as personal files like emails and other documents … will not show any advertisements … will not collect or profit from user data, [and] … plans to make money on subscriptions from users paying for the service."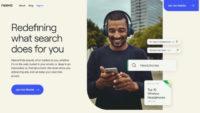 In addition to Google's overwhelming dominance — it accounts for about 90 percent of all worldwide searches — users may balk at paying for a feature they are accustomed to getting for free. That includes even those worried about Google's data collection.
Neeva's search relies on Microsoft Bing, the weather information on weather.com, stock data from Intrinio, and maps from Apple. If a user links his "Google, Microsoft Office or Dropbox account, Neeva sifts through personal files as well as the public Internet for the right answers." Over time, Neeva's search results will become more personalized because "it knows the people in your contacts, the retailers you ordered from, and news publications you received newsletters from."
According to Ramaswamy, "companies are often torn between serving the interests of advertisers or the interests of users," pointing out that "Google has devoted more space to ads at the top of search results with the results users are seeking pushed down the page — an issue more pronounced on smaller smartphone screens."
"As a consumer product, the more pressure there is to show ads, the less useful in the long term the product becomes," he said.
Neeva will be free until the end of the year, and Ramaswamy said the subscription fee will be less than $10/month, with the aim of lowering it as more people sign up. He noted that he is not against ads but added that if a company relies on advertising for its main source of revenue, it eventually leads to an "outcome that you're not particularly happy about."
Neeva isn't the only platform being offered as an alternative to Google search. DuckDuckGo does run ads, said chief executive Gabriel Weinberg, but doesn't track user behavior. "If you want the most impact to help the most people with privacy, you have to be free because Google will be free forever," Weinberg said.