Amazon announced this morning that it will purchase MGM Studios for $8.45 billion, signaling the tech giant's serious intent to expand its entertainment ambitions by beefing up its Prime Video content library to better compete with Netflix, Hulu and the growing collection of streaming video services. The deal marks the second largest acquisition for Amazon; the company paid $13.7 billion for Whole Foods in 2017. Amazon plans to leverage MGM's significant catalog of 4,000 movies and 17,000 television shows to help strengthen its film and TV unit Amazon Studios.
"The real financial value behind this deal is the treasure trove of IP in the deep catalog that we plan to reimagine and develop together with MGM's talented team," explained Mike Hopkins, SVP of Prime Video and Amazon Studios. "It's very exciting and provides so many opportunities for high-quality storytelling."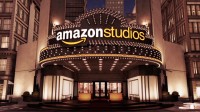 The deal brings a number of high-profile properties to Amazon, including the iconic James Bond franchise, the EPIX premium cable network, and popular reality TV programs such as "The Real Housewives," "Shark Tank" and "Survivor." The studio also houses hit shows including "The Handmaid's Tale" and "Fargo" and its library includes well known characters such as Rocky, RoboCop and Pink Panther.
"Amazon has long been willing to make big investments on video content as a strategy to buoy Prime memberships, which now surpass 200 million globally," reports CNBC. "It spent $11 billion on video and music content last year, up from $7.8 billion in 2019. CEO Jeff Bezos has argued that these investments reinforce Amazon's 'flywheel effect,' in that it attracts more Prime subscribers, who in turn, tend to spend more on the site."
Amazon, which has been gaining attention for critically-acclaimed original programming, is currently in production on a "Lord of the Rings" adaptation that reportedly will cost $465 million for the first season, and recently signed a deal with the NFL to broadcast "Thursday Night Football" beginning next year.
"The deal is the latest in the media industry that's aimed at boosting streaming services to compete against Netflix and Disney+," notes the Associated Press. "AT&T and Discovery announced last week that they would combine media companies, creating a powerhouse that includes HGTV, CNN, Food Network and HBO."
"The MGM deal could heighten antitrust concerns for Amazon," suggests CNBC. "The company faces ongoing probes by multiple federal agencies, state attorneys general and Europe's antitrust watchdog. The House Judiciary antitrust subcommittee issued a sweeping report last October that found Amazon has monopoly power over third-party sellers on its marketplace."
"The acquisition announcement comes one day after new antitrust claims were levied against Amazon" by Attorney General for the District of Columbia Karl Racine.
Related:
Why Amazon Is Paying Nearly $9 Billion for MGM and James Bond, Vox, 5/26/21
Why Amazon Just Spent More Than $8 Billion on MGM, CNN, 5/26/21
DC Attorney General Sues Amazon on Antitrust Grounds, Alleges It Illegally Raises Prices, CNBC, 5/25/21
Topics:
Acquisition
,
Amazon
,
Amazon Prime
,
Amazon Studios
,
Antitrust
,
AT&T
,
Discovery
,
Disney
,
E-Commerce
,
EPIX
,
Fargo
,
HBO
,
Hulu
,
James Bond
,
Jeff Bezos
,
Karl Racine
,
Lord of the Rings
,
MGM Studios
,
Mike Hopkins
,
Movie
,
Music
,
Netflix
,
NFL
,
Prime Video
,
Reality TV
,
Sports
,
Streaming
,
The Handmaid's Tale
,
Thursday Night Football
,
TV Show
,
Video
,
Whole Foods