Florida just passed a new law, signed by Governor Ron DeSantis, that makes it illegal for Facebook, YouTube, Twitter and other social media platforms to permanently bar political candidates from their sites. The law, which was crafted in response to Facebook's and Twitter's ban of former President Donald Trump in January, will impose a $250,000 per day fine. The law also makes it illegal to prevent posts in response to stories on their platforms. The law will likely face a constitutional challenge in the courts.
The New York Times reports that DeSantis said, "if Big Tech censors enforce rules inconsistently, to discriminate in favor of the dominant Silicon Valley ideology, they will now be held accountable." The law, more specifically, "makes it illegal to bar a candidate for state office for more than 14 days."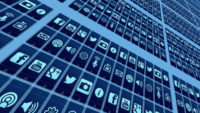 Legislators in other conservative states are also pushing to "crack down on the ability of tech companies to manage posts on their platforms," an effort ignited by Trump being barred from Twitter and Facebook after the January 6 attack on the Capitol. The National Conference of State Legislatures reported that 100+ similar bills have been filed throughout the U.S.
The Florida law further states that, "the platforms cannot take down or otherwise prioritize content from a 'journalistic enterprise' that reaches a certain size." It notes that "conservatives were outraged last year when Facebook and Twitter limited the reach of a New York Post article" about the contents of a laptop purportedly belonging to Hunter Biden.
The law states that, "platforms are also required to be clear about how they decide to take down content or leave it up." An amendment added late in the process "exempts companies from the law if they own a theme park or an entertainment venue larger than 25 acres," which means it would not apply to Disney or Universal websites.
Trump consistently pushed to repeal Section 230 of the Communications Decency Act, which "provides immunity to certain tech firms from liability for user-generated content, even as he used their platforms to spread misinformation."
Wired reports that Florida's new law is a "double landmark." "It's the first state law regulating online content moderation, and it will almost certainly become the first such law to be struck down in court," it says. At the University of Miami, law professor A. Michael Froomkin noted that, "this is so obviously unconstitutional, you wouldn't even put it on an exam."
"This law looks like a political freebie," he added. "You get to pander, and nothing bad happens, because there's no chance this will survive in court."
In addition to encroaching on "well established Supreme Court precedent" on the First Amendment, the law also "conflicts with Section 230 of the Communications Decency Act, a federal law that generally holds online platforms immune from liability over their content moderation decisions." In Washington, there is bipartisan distaste for Section 230, but "the fact is that Section 230 remains in effect, and, like many federal statutes, it explicitly preempts any state law that conflicts with it."
Topics:
Big Tech
,
Communications Decency Act
,
Disney
,
Donald Trump
,
Facebook
,
Florida
,
Hunter Biden
,
Journalism
,
Michael Froomkin
,
Misinformation
,
NCSL
,
News
,
Political Candidates
,
Politicians
,
Ron DeSantis
,
Section 230
,
Silicon Valley
,
Social Media
,
Supreme Court
,
Twitter
,
UGC
,
Universal
,
University of Miami
,
YouTube