Adobe issued a workflow guide for content creators producing short-form video for the new Quibi app for mobile devices. The guide offers a step-by-step process via its Premiere Pro production platform, outlining technical specs for deliverables and use of the machine-learning-powered Auto Reframe feature to streamline creation of both horizontal and vertical versions. Quibi co-founder Jeffrey Katzenberg also stated that, in May, some Quibi users will be able to cast the service from phones to their TVs.
Adobe's guide first notes that Quibi "recommends shoot[ing] native 4K with 15 percent extra framing to anticipate vertical reframing." Captions, lower thirds and other title elements require "a title safe margin of 82 percent for both horizontal and vertical delivery," as well as an action safe of 89 percent, "especially important for vertical output."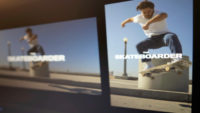 Because the end user can "dynamically switch between landscape and portrait viewing modes as they rotate their device," the company's tech specs "require two master files for delivery: 1 x landscape (16:9) and 1 x portrait (9:16) versions."
Premiere Pro allows creators to "leverage the two streams functionally — by optimizing their videos for the two viewing formats — and creatively, to enhance their storytelling." Auto Reframe allows the graphics and titles to be "quickly resized … using position and scaling … [and] automates the process of extracting alternate versions of your sequences for vertical video."
In post production, editors will need to reversion content for the two aspect ratios and review "the two streams side-by-side for quality control before final export."
Adobe's guide recommends that creators should begin "editing in the traditional horizontal format in 1920×1080 … to focus on the narrative in your familiar workflow before moving to the vertical version." "Once the Horizontal edit has picture locked, you can focus on generating a new vertical cut from the existing timeline" using Auto Reframe, which allows the audio/video elements to stay in synch.
For delivery, "Quibi accepts two digital master formats in either ProRes 444 XQ or DNxHR 444," both of which can be exported out of Premiere Pro. For specific questions, Adobe recommends contacting Quibi directly.
Engadget reports that, although Quibi debuted without the ability to cast to TVs, "in response to early users' requests and complaints, the company announced a few days later it was fast-tracking its plans to let the app cast to TVs." Katzenberg said that "some Quibi users" will be able to start casting the service in May, but "didn't say which subset of users is getting the capability or how it will determine which users are getting it first."
He revealed that Quibi has been downloaded 2.7+ million times since its April launch.