YouTube's new CEO Susan Wojcicki is changing the way YouTube both sells its stars and sells advertising. To increase recognition of YouTube stars, some established YouTube talent will be featured in traditional television commercials, billboards, and ads in national magazines. The company is also selling packages of its top content across 14 video categories to advertisers. These "Google Preferred" packages offer audience guarantees to advertisers who purchase in advance.
Wojcicki is hoping to bring casual fans to YouTube stars who already have a devoted online following, starting with chef Rosanna Pansino, and beauty experts Michelle Phan and Bethany Mota.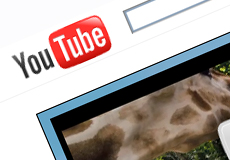 "When you compare our stars to someone who is a star on TV, their awareness was built through broad [advertising] campaigns on television and billboards," said YouTube content chief Robert Kyncl in Advertising Age. "So they built their audience through superfans as well as through casual fans."
By bringing more recognition to YouTube stars and their content, the company is also making advertisers more familiar with it, particularly the advertisers that already understand TV's $212 billion global ad market. "We are at the point where we are trying to get advertisers who have traditionally bought TV to understand the YouTube platform," Wojcicki said.
"While buyers and marketers applaud YouTube's concessions, particularly the willingness to offer guarantees, some aren't completely satisfied and are pushing for more TV-like deal terms," reports The Wall Street Journal. "One is the ability for a marketer to make an upfront commitment with some flexibility to pull back some of their ad commitment later, according to ad executives."
Top digital ad buyers complained in an open letter that the video industry needed to be more like TV in its transparency and guaranteed delivery, and YouTube's step in that direction is "Google Preferred." Their new model is similar to TV's cost-per-thousand viewers. Also, the categories of top content such as Beauty & Fashion, Comedy, Food, Music, and Sports will allow advertisers to target consumers better.
Topics:
Ads
,
Advance
,
Advertiser
,
Advertising
,
Audience
,
Beauty
,
Billboards
,
Buy
,
Buyer
,
Casual
,
Categories
,
Channels
,
Comedy
,
Commercial
,
Commitments
,
Consumers
,
Content
,
cost per thousand
,
CPM
,
Fashion
,
Food
,
Google
,
guarantees
,
Magazines
,
Mota
,
Music
,
NewFronts
,
Packages
,
Pansino
,
Phan
,
Recognition
,
Sports
,
Stars
,
Television
,
Top
,
Traditional
,
Transparency
,
TV
,
Upfronts
,
Video
,
Viewers
,
Wojcicki
,
YouTube