YouTube this week announced a new feature that will soon allow its users to watch video content offline. Starting in November, Google's YouTube mobile apps will enable users to download content for offline viewing within a 48-hour period following the downloads. While the new feature may be a win for video fans when they are not online, some industry execs speculate that the move will not have much of an impact on total viewing numbers or advertising dollars.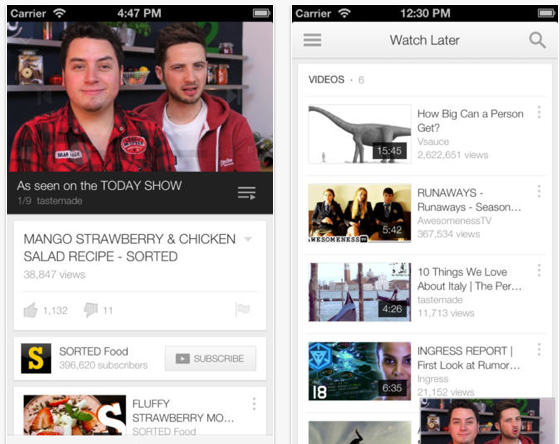 "I think it's a nice bonus, but probably not earth-shattering unless the download is for more of a long-form experience," said VideoNuze analyst Will Richmond.
"The offline-viewing feature is 'a welcome innovation… but likely not a huge game-changer,' said a top executive at a large YouTube multichannel network, who requested anonymity because YouTube is a major partner," reports Variety. "That said, the exec added, 'mobile YouTube viewing is exploding and this will certainly help add fuel to that fire.'"
According to YouTube, video consumption on mobile devices such as smartphones and tablets today comprises more than 25 percent of global viewing, or more than 1 billion views per day.
"This upcoming feature will allow people to add videos to their device to watch for a short period when an Internet connection is unavailable," YouTube explained on its Creators Blog yesterday. "So your fans' ability to enjoy your videos no longer has to be interrupted by something as commonplace as a morning commute. This is part of our ongoing updates to give people more opportunities to enjoy videos and channels on YouTube mobile."
Google in-­stream ads will play in the offline content, and YouTube is reportedly offering partners the opportunity to opt out.
Variety notes: "Meanwhile, YouTube's offline-viewing feature won't support discovery of new content through social and sharing 'which happens in the moment with a live connection,' said Larry Tanz, CEO of digital studio Vuguru. On the other hand, it might let YouTube charge higher CPMs (cost per thousand impressions) if it can show the downloading audience is more engaged, he added."