San Francisco-based startup Occipital, creator of the 360 Panorama app and RedLaser barcode-scanning app acquired by eBay, is developing a 3D scanning accessory for iPads called the Structure Sensor. Inspired by the sensor technology of Microsoft's Kinect, CEO Jeff Powers decided to change the direction of Occipital to develop a new scanning tool. The result is the Structure Sensor, which earned the company more than $250,000 in a single day through its Kickstarter campaign.
At the time of this posting, the Structure Sensor has raised $476,417 in just two days (with 43 days remaining in its campaign).
"This isn't about taking pictures," explains Powers in the promotional video. "It's about computer vision and interaction. We call it spatial computing. It's much bigger than just us and it's going to change the way we interact with the world."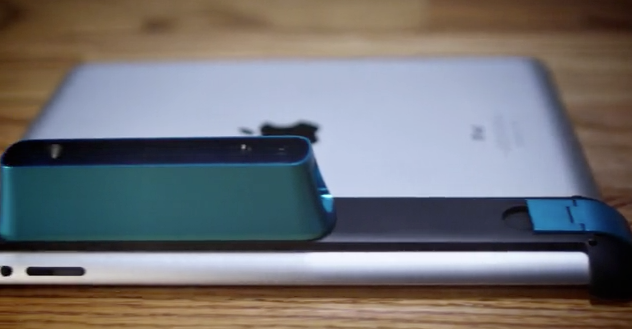 The Structure Sensor incorporates a suite of sensor technologies developed by PrimeSense, the company responsible for the original tech used in the Kinect.
"Unlike scanner apps, the Structure Sensor emits infrared light providing the device with a high quality stream of data which is then interpreted by Occipital's software," reports Wired. "It can scan objects in between 15 inches and 11 feed beyond its lens and will run for four hours at a time, with 1,000 hours of standby time. As a nice side benefit it also gives your iPad night vision."
"With the Structure Sensor attached to your mobile device, you can walk around the world and instantly capture it in a digital form," explains the device's Kickstarter page. "This means you can capture 3D maps of indoor spaces and have every measurement in your pocket. You can instantly capture 3D models of objects and people for import into CAD and for 3D printing. You can play mind blowing augmented reality games where the real world is your game world."
"If you're a developer, Structure gives you the ability to build mobile applications that interact with the three dimensional geometry of the real world for the very first time. You can even launch your app on the App Store!"
Wired notes some potential uses: "Product designers can use their iPads and Occipital's anodized aluminum add-on to scan objects and create 3D models suitable for a MakerBot. Realtors can take advantage of its depth sensors to capture the dimensions of a room and create a 360-degree panoramic photo that can be embedded in a listing. Gamers will be able to use the slick sensor to play a bevy of games built on top of the Structure's open API. More than a cool gadget, the team at Occipital hopes to create a platform that will give smartphones and tablets a new set of super powers."
The Structure Sensor will start at $350 a set when it ships in February of next year.
Occipital, which has Series A funding from Foundry Group and K9 Ventures, maintains offices in San Francisco, California and Boulder, Colorado. Its 360 Panorama real-time panorama capture app has been downloaded 7.5 million times.
Topics:
360 Panorama
,
3D
,
API
,
App
,
App Store
,
Apple
,
Barcode
,
CAD
,
Campaign
,
Designer
,
Developer
,
eBay
,
Foundry
,
Game
,
Gaming
,
iPad
,
K9
,
Kickstarter
,
Kinect
,
MakerBot
,
Map
,
Microsoft
,
Mobile
,
Model
,
Occipital
,
Panorama
,
Phone
,
PrimeSense
,
Print
,
Printing
,
RedLaser
,
Scan
,
Scanner
,
Scanning
,
Sensor
,
Smartphone
,
Spatial
,
Startup
,
Structure
,
Tablet