YouTube Shorts, intended to rival video-sharing social media platform TikTok, rolled out in beta to a small group of U.S. users, after debuting first in India last fall. Shorts project lead Todd Sherman said the company plans to experiment with advertising and monetization features for creators "later this year." In beta, Shorts offers the ability to add text to points in the video and sample audio from other Shorts. Similar to TikTok, YouTube Shorts is focused on music. Shorts, however, integrates with the larger YouTube platform.
Variety reports that YouTube Shorts and the larger YouTube platform also have a symbiotic relationship. On Shorts, the user can click a song snippet and see the full song on YouTube or learn more about the artist. Soon, on a YouTube video, the user will be able to click a "create" button to make their own Short with the audio "or see other Shorts that use the song."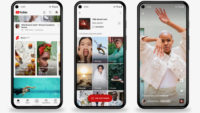 "The music industry is so stoked for this," said YouTube global head of music Lyor Cohen. "This is going to help drive a lot of new listening."
The music team "signed licensing agreements to use snippets of millions of songs from over 250 labels and publishers" including Universal Music Group, Sony Music Entertainment, Warner Music Group and Warner Chappell Music, Believe, Merlin, 300 Entertainment, Kobalt, Beggars Music, CD Baby, Empire, Peermusic, Reservoir, and ONErpm.
According to Sherman, "eventually, YouTube Shorts creators will be able to clip audio from the vast main YouTube corpus — encompassing billions of videos worldwide — although the owners of those videos will be able to opt-out from having their content from remixes."
Since its launch in India (where TikTok is banned), the YouTube Shorts player "has now surpassed 6.5 billion daily views globally … up from 3.5 billion just a month ago." Although the user can only clip 15 seconds from music videos, Shorts "lets users record, edit and share clips up to 60 seconds in length." Another tool is "a multi-segment camera to string multiple video clips together, the ability to record with music and to control speed settings (like TikTok)."
The Verge reports that, similar to TikTok, "users will be able to swipe through an endless, algorithmically generated feed of short videos, subscribe to their favorite creators, explore specific hashtags or sounds, and remix other videos' audio tracks."
Rather than an app, "Shorts will live on a new carousel on the home tab of the mobile YouTube app … [and] the company is also experimenting with a dedicated Shorts tab." But, it says, Shorts is "missing plenty of features that make TikTok such a unique viral hit," such as collaborative features, which means "users won't be able to reply to other videos or join together in a version of TikTok's popular duet or stitch features." Another missing feature is "a way to view a more curated feed" than the main algorithmic one.
Topics:
300 Entertainment
,
Advertising
,
Audio
,
Beggars Music
,
Believe
,
Beta Test
,
CD Baby
,
Empire
,
India
,
Kobalt
,
Licensing
,
Lyor Cohen
,
Merlin
,
Music
,
Music Video
,
ONErpm
,
Peermusic
,
Reservoir
,
Social Media
,
Sony Music Entertainment
,
TikTok
,
Todd Sherman
,
Universal Music Group
,
Video
,
Warner Chappell Music
,
Warner Music Group
,
YouTube
,
YouTube Shorts