Apple opened its Worldwide Developers Conference in San Francisco yesterday with a 2-hour keynote address that re-emphasized the company's coolness factor, its ability to innovate and a return to a focus on design. Apple introduced its much anticipated iTunes Radio music service, new MacBook Airs with improved battery life, a super-fast cylindrical Mac Pro, the Jony Ive-designed iOS 7 with redesigned icons and distinct functional layers, and a new Mac operating system dubbed "Mavericks."
Desktop Operating System: OS X 10.9 Mavericks is a reference to a major California surf spot. After years of naming its operating systems for big cats, the company is pursuing a new theme. The new system includes improvements such as the ability to tag documents to find them more easily and a closer integration with its mobile operating system.
Mac Pro: One-eighth the size of its predecessor, the new Mac Pro features a compelling cylindrical design and is built around a more efficient, unified thermal core. It is the first Mac to come standard with dual workstation GPUs for more powerful graphical performance and features six Thunderbolt 2 ports, four USB ports, Gigabit Ethernet and HDMI out. The new Mac Pro also supports up to three 4K displays simultaneously.
"It's got super-fast ECC memory and 60GB per second of bandwidth, which is twice as much as the previous model," explains Wired. "It's also 2.5 times faster than the previous Mac Pro, delivering 7 teraflops of computing power, and its new PCIe-based flash storage is up to 10 times faster than conventional desktop hard drives."
While pricing and availability were not announced, Apple's marketing chief Phil Schiller said the desktop machine is for users who want the "fastest, most expensive Mac in existence."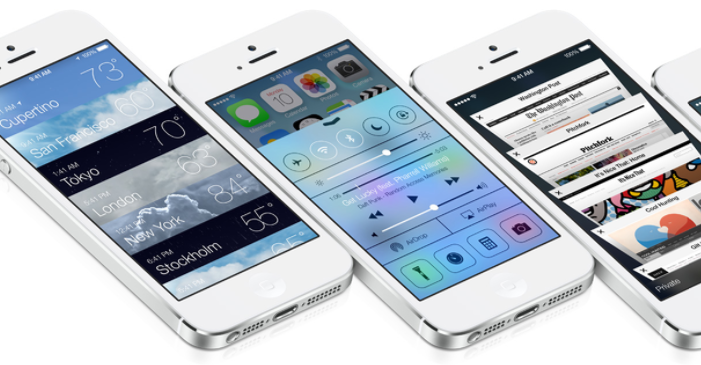 Mobile Operating System: Apple CEO Tim Cook called the company's new mobile operating system the "biggest change to iOS since the introduction of the iPhone." The new iOS 7 is the first developed by Apple's lead hardware designer Jony Ive.
"The design in iOS 7 introduces thin typography, similar to Microsoft's Windows Phone software, and a new color palette," reports The New York Times. "The keyboard looks simple, with gray letters on flat, white backgrounds. Apple also removed textures that made some apps mimic real-life objects. The Calendar app has shed its faux leather; the Game Center app no longer has green felt; and the shelves in the iBookstore app are no longer wood-grained. And the home screen has an effect called parallax to make the app icons look as if they are popping out in 3D."
Other iOS 7 features include Activation Lock, which disables the iPhone even if a thief has turned it off or erased the data, and improvements to voice-controlled assistant Siri, such as new realistic voices and response to more commands. Next year, iOS and Siri will be integrated into automobiles made by Nissan, Kia, Honda, Toyota and others.
Overview: "Apple made a play for its customers' emotions, but they didn't necessarily stoke any new consumer behavior," suggests Forrester Research analyst James McQuivey. "They have shown Apple's style, but the sum total doesn't suggest that Apple has its mojo back."
"The real referendum on the announcements will come this fall, when the software will be released to consumers," predicts The Wall Street Journal. "Apple is also expected to release its latest iPhone in the fall, which is expected have similar hardware to the iPhone 5, people familiar with the matter say."
Related News:
WWDC 2013 Keynote Video, Apple, 6/10/13
MASHUP: Apple's 2-Hour Long WWDC Keynote in 60 Seconds, Business Insider, 6/10/13
Apple Gives the Mac Pro a Super-Powered, Cylindrical Update, Wired, 6/10/13
From Apple, an Overhaul for Mobile and the Mac, The New York Times, 6/10/13
Apple's Quest for Perfection and Enduring Beauty, CNET, 6/11/13
Apple Plays Up its Cool with Mobile OS Update, The Wall Street Journal, 6/10/13