At this week's WWDC, Apple unveiled its latest mobile operating system for iPhones and iPod touches, iOS 13, which includes faster performance, upgraded Siri, Dark Mode, advanced Photo and Camera tools, and new privacy features. The company also announced a separate iPadOS for its tablets, which features the same upgrades as iOS 13 in addition to multitasking improvements and a redesigned home screen. Apple is encouraging developers to create new apps that work across all its devices, including Macs. The company announced Project Catalyst (formerly code-name Marzipan), a set of tools that make it simple for developers to make their apps accessible on the Mac.
"Once there are tens of thousands of popular iPhone and iPad apps on the Mac, we could be looking at a real surge in Mac sales," predicts Macworld. "After all, ten times as many people have an iPhone than a Mac. When they go to buy a computer one day, are they going to get the one that has all the exact same apps they love on their iPhone, or one where they have to start over with a new software library from scratch?"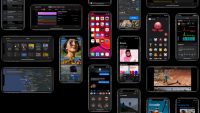 With iOS 13, Apple is introducing Dark Mode, reducing its app sizes, adding more privacy features, and improving its Face ID system's recognition time by 30 percent. The company is also delivering updates to Reminders, Maps, Health and CarPlay. The new iOS is enabling AirPods to instantly convey incoming text messages and allow users to respond to messages. HomePod will recognize voices of different users, and enable customization of responses to each user.
According to Apple, "Siri has a new, more natural voice, and Siri Shortcuts now supports Suggested Automations that provide personalized routines for things like heading to work or going to the gym."
"Having previously debuted on macOS Mojave last year, iOS 13's new Dark Mode effectively inverts user interface elements across all apps, making backgrounds black and dark gray rather than white and light gray, while turning black text white," explains VentureBeat. "Dark Mode could save power on iPhones with OLED screens, and may also make all compatible iOS devices easier on the eyes in dimly lit environments."
Among its significant privacy features, Apple is introducing "an 'allow just once' sharing of locations for an app, Wi-Fi/Bluetooth protections, and a tracking-free Apple Sign In option — complete with the option of automatically generated forwarding email addresses, which are separately issued for individual apps and can be turned on or off as necessary."
Apple is also adding "Time-Synced Lyrics in Music, a new QuickPath keyboard supporting swipes as well as taps, and rich text composition in Mail," notes VB.
The company's "plan to allow anonymous sign-ins on mobile apps to protect users' privacy threatens to choke off data to companies including Facebook and Google that use the information to track users and sell ads based on their habits," suggests The Wall Street Journal. "While the move was broadly seen as positive for consumers cautious about privacy, app developers were less happy." The new feature "could disrupt the ecosystem that has evolved to support a de facto database of market research on consumers."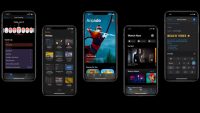 According to CNET, "iPhone and iPad users will be getting some intriguing new photo features, including the ability to adjust the intensity of portrait lighting with a slider, other dynamic adjustments and the ability to rotate videos right in the Photos app."
"Camera's Portrait Lighting feature is being updated with a High-Key Mono effect and facial smoothing options, while the Photo app's editing is adding vibrance, white balance, sharpen, definition, vignette, and noise reduction adjustments — as well as the ability to apply filters and effects to videos, not just photographs," VB adds. "The new Photos app will use ML to reduce duplicates within your library, and create a better Days view tab that presents images in a deliberately uneven grid that emphasizes some images over others."
While the new iPadOS is not based on new code, but is essentially "iOS 13 with iPad exclusive features," reports Macworld, the change in name "is indicative of a change in the way Apple thinks about its tablets. It's a vision statement, a declaration that Apple is actively growing the iPad into a product you can do 'real work' with."
Among the upgrades specific to iPadOS are a new home screen design, an improved multitasking interface, a new Column view for the Files app, SMB file sharing and iCloud Drive folder sharing, and archive zipping and unzipping.
"The new iOS and iPadOS releases both carry the number 13, and are available today to registered developers through Apple's portal. Public betas are due in July, with final releases in the fall," notes VB. "iOS 13 will run on the iPod touch 7 and iPhone 6S and later, while iPadOS 13 will run on the iPad Air 2 and later, iPad 5 and later, iPad mini 4 and later, and all iPad Pro models."
Related:
Apple Reveals iPadOS for iPad With a New Home Screen, Multitasking Improvements, and More, The Verge, 6/3/19
Sign In with Apple Will Come to Every iPhone App: How the New Privacy Login Tool Works, CNET, 6/5/19
Apple Promotes Privacy Features at Developers Conference, ETCentric, 6/5/19
Apple Divides iTunes Features into Music, Podcast, TV Apps, ETCentric, 6/5/19
Apple Unveils Groundbreaking New Technologies For App Development, Apple Newsroom, 6/3/19
Here's Every New Privacy Feature Apple Announced Today, Gizmodo, 6/3/19
Topics:
AirPods
,
Apple
,
Bluetooth
,
CarPlay
,
Dark Mode
,
Developer
,
Health
,
HomePod
,
iCloud
,
iOS
,
iOS 13
,
iPad
,
iPadOS
,
iPhone
,
iPod
,
iPod touch
,
Mac
,
macOS Mojave
,
Mail
,
Maps
,
Marzipan
,
Mobile
,
Music
,
OLED
,
Privacy
,
Project Catalyst
,
QuickPath
,
Reminder
,
Sign in With Apple
,
Siri
,
Smartphone
,
Wi-Fi
,
WWDC