In fiscal Q2, Microsoft posted gains for its Intelligent Cloud segment, which includes Azure, showing an uptick of 8 percent — or 10 percent accounting for currency fluctuations — to $6.9 billion. Azure revenue has increased 93 percent, more than doubling from the same period a year ago. Microsoft is now firmly in second place, behind Amazon, in cloud computing. Microsoft also enjoyed a 5 percent increase in revenue from licensing Windows software to PC manufacturers and another 5 percent uptick from corporate agreements.
According to The Wall Street Journal, Microsoft says its cloud-computing division's annualized run-rate (sales from the most recent month multiplied by 12) "exceeded $14 billion." In comparison, Amazon reports that, in Q3 ending in September, its Amazon Web Services unit increased sales by 55 percent to $3.23 billion.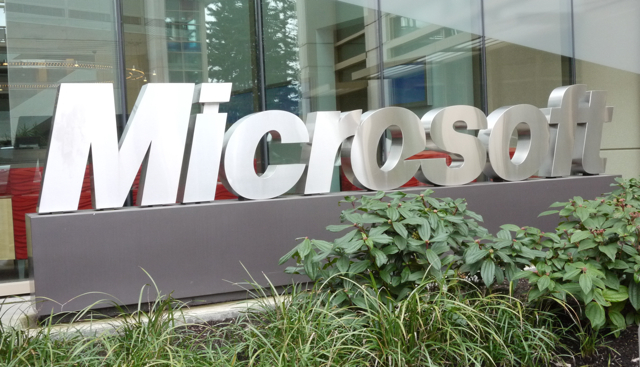 "It's clear that Microsoft is a very strong No. 2, and distancing themselves from Google Cloud," said Stifel Nicolaus & Co. analyst Brad Reback. Google, meanwhile, reported that its "non-advertising revenue," which includes cloud computing and hardware sales, increased 62 percent to $3.4 billion.
In recent quarters, Azure's growth had more than doubled, but "the slightly slower growth rate reflects the size of the overall business." Microsoft finance chief Amy Hood, who calls the growth "really great numbers," adds that, "You will see those numbers trend down."
This quarter was also the first that included LinkedIn results. Microsoft paid $27 billion and, in this quarter, reported $228 million in revenue and posted a $201 million operating loss, due to the deal closing December 8. Microsoft chief executive Satya Nadella says his company plans to "weave LinkedIn into its Dynamics customer-relationship management products."
Microsoft also experienced growth in its Office productivity-software franchise, reports The New York Times, with 5 percent increases each in Windows licenses and from corporate clients. NYT calls that "one of the biggest surprises of the quarter," in light of the fact that Gartner reports worldwide PC shipments dipped 3.7 percent in the last quarter of 2016. "Microsoft … still occasionally outperforms the overall market, especially during a surge in sales of higher-end personal computers."
Hood says that the bump is due to corporations increasing deployments of Windows 10 on their personal computers and "innovative new machines aimed at consumers" that sold well.