On September 15, Walmart will debut its anticipated Walmart+ subscription service. At $98 per year, the new offering is intended to compete with Amazon Prime, priced at $119 per year. Walmart+ requires an order of at least $35 for free shipping directly from stores to customers' homes. It offers 160,000 items, including produce and groceries, and subscribers will also get a 5-cent-per-gallon discount at its affiliated gas stations. Walmart hopes its many stores' proximity to customers will mean delivery of fresher food than its rivals.
The New York Times reports that Walmart+ subscribers will have the option of paying $12.95 per month rather than the annual fee. Unlike Amazon Prime, Walmart+ will not include streaming entertainment. While Morgan Stanley predicted in June that up to 20 million people could sign up, other analysts are not so sanguine. "For a $35 minimum and $98 annual fee, this is a thin gruel," said Customer Growth Partners president Craig Johnson.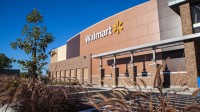 Walmart chief customer officer Janey Whiteside responded that, "most customers' online orders were higher" than the minimum, and that the company will soon "announce additional perks" for Walmart+ subscribers.
Walmart previously experimented with e-commerce including "a high-end concierge service called Jet Black," which was shuttered. Whiteside said Walmart+ is "an outgrowth of some of those experiments and had been refined by studying customer behavior during the pandemic." During COVID-19, Walmart's online sales grew 97 percent in Q2, "more than double its average rate of growth."
The Verge reports Walmart has stated that Walmart+ deliveries can be "as fast as same-day," but will depend on what is in each order. Subscribers will also have the option to shop in stores with the company's Scan & Go mobile app, which lets them "scan items as they shop and pay through their phone." Walmart+, however, "does not include free delivery for the far larger range of items available at [Walmart's website], though many of these already include free two-day delivery for orders over $35."
Last year, Walmart tested Delivery Unlimited, "a similar service … that also offered free grocery deliveries for $98 a year." Those already subscribed to Delivery Unlimited have been rolled into Walmart+.
CNN notes that Walmart has 4,700 stores, and that, according to the company, "about 90 percent of Americans live within 10 miles of a Walmart." Walmart said that 2,700 of those stores will ship items on the same day, possibly beating Amazon in delivery speeds in some areas. Groceries make up about 56 percent of Walmart's annual sales. On the news, Walmart's stock rose 2 percent during early trading; it has jumped 16 percent this year.
Topics:
Amazon Prime
,
Apps
,
Coronavirus
,
COVID-19
,
Craig Johnson
,
Customer Growth Partners
,
Delivery Unlimited
,
E-Commerce
,
Free Shipping
,
Home Delivery
,
Janey Whiteside
,
Jet Black
,
Morgan Stanley
,
Online Shopping
,
Scan & Go
,
Streaming
,
Streaming Video
,
Subscribers
,
Subscription
,
Two-Day Delivery
,
Video
,
Walmart
,
Walmart Plus