Facebook and Twitter reported that the Internet Research Agency in Russia, which reportedly interfered in the 2016 U.S. presidential election, is again using fake accounts and created Peace Data, a fake left-wing website. With the likely goal of influencing the 2020 election, it is believed to be spreading disinformation about Democratic presidential candidate Joseph Biden. U.S. intelligence agencies have warned for months about Russian meddling. Both social platforms have already taken steps to address such disinformation; most recently, Facebook announced plans to block political ads one week before the November election and Twitter is adding more context to Trending Topics.
The New York Times reports that, "Facebook and Twitter are offering evidence of this meddling, even as the White House in recent weeks has sought to more tightly control the flow of information about foreign threats to November's election and downplay Russian interference."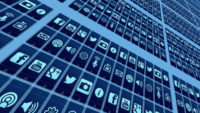 Facebook and Twitter, which were slow to respond to evidence of disinformation in 2016, said they have been warned by the Federal Bureau of Investigation. The two companies have identified "fringe websites [that aim to] spread conspiracy theories and sow division in the United States." This time, however, Russians have hired Americans to write for Peace Data, which also uses "personas with computer-generated images to create what looked like a legitimate news organization."
"The Russians are trying harder to hide; they are increasingly putting up more and more layers of obfuscation," said Graphika's Ben Nimmo. "But they are still getting caught." One freelance writer said he answered an online job board ad and received $75 per story for writing for Peace Data.
Facebook stated that, thus far, the Internet Research Agency created "13 fake accounts and two pages dedicated to promoting Peace Data," which are followed by 14,000 people. Their goal, said Facebook head of security Nathaniel Gleicher, is to "drive people to the Peace Data site." Twitter, meanwhile, has thus far "suspended five accounts associated with Peace Data for 'platform manipulation that we can reliably attribute to Russian state actors'."
Elsewhere, NYT reports that Twitter is adding "more context to topics that trend on its service, an effort to clean up a feature that has often been used to amplify hate and disinformation." Even so, that is a half measure for many critics (and some Twitter employees) that want the company to eradicate Trending Topics altogether. Trending Topics can be "curated according to personal interests or geographic location … but the system has often been gamed by bots and Internet trolls to spread false, hateful or misleading information."
For example, "in February, Russian trolls fueled an American-made conspiracy theory that former members of Hillary Clinton's staff were rigging the Iowa caucuses, and helped push the baseless theory to the top of Twitter's trending list." White nationalists and QAnon have also had success pushing anti-Semitism and misinformation to Trending Topics.
Recent killings in Kenosha, Wisconsin and Portland, Oregon have intensified calls from employees who warn that, "Trending Topics, if not adequately addressed, could ignite further violence in the run-up to and aftermath of the November election." A campaign to #UntrendOctober seeks to have Twitter turn off the service until after the election. With Twitter's recent change, Trending Topics will "now include explanatory tweets and descriptions that show why an item is trending."
Related:
Facebook to Block New Political Ads 1 Week Before Nov 3, Adds More Tools and Rules for Fair Elections, TechCrunch, 9/3/20
Microsoft Will Identify Manipulated Media With a Confidence Score, Engadget, 9/1/20
Facebook Joins With Researchers to Study Its Influence on Elections, The Wall Street Journal, 8/31/20
Facebook Partially Documents Its Content Recommendation System, TechCrunch, 8/31/20
Facebook Takes Down Russian Operation That Recruited U.S. Journalists, Amid Rising Concerns About Election Misinformation, The Washington Post, 9/1/20
Mark Zuckerberg's $300 Million Donation to Protect Elections Must Overcome Facebook's Past, Recode, 9/1/20
Topics:
2016 Presidential Election
,
2020 Presidential Election
,
Ben Nimmo
,
Bot
,
Disinformation
,
Donald Trump
,
Facebook
,
Fake Account
,
FBI
,
Graphika
,
Hate Speech
,
Hillary Clinton
,
Internet Research Agency
,
Nathaniel Gleicher
,
Oregon
,
Peace Data
,
QAnon
,
Russia
,
Social Media
,
Trending Topics
,
Trolls
,
Twitter
,
Wisconsin