With its new deal to invest in TikTok (with Oracle), Walmart is taking big steps to create a transformative digital-centric future and a company that can successfully compete with its closest rival, Amazon. One analyst predicted the TikTok deal could "redefine retail" and Cowen retail analyst Oliver Chen called it a "bigger-picture opportunity." Although it's not yet clear what Walmart will do with TikTok, it now has another way to engage with consumers not actively shopping online, perhaps gathering data or serving ads.
The New York Times reports that Walmart's investments in subscription-based online grocery shopping, with its own Walmart+ service, are also set to compete with Amazon Prime. UBS analysts believe that Walmart's service, which costs $98 a year and minimum orders of $35 for free delivery, could garner 10 million subscribers by the end of 2021.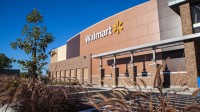 Amazon Prime, meanwhile, costs $119 per year and has about 150 million subscribers. Walmart's competitive advantage is its 4,700 stores, that serve as "mini-warehouses" and should enable Walmart to cut delivery time and costs and keep foods fresher. KeyBanc Capital Markets retail analyst Edward Yruma noted that, "you see Amazon following behind Walmart on this."
Walmart, the nation's largest private employer, is ramping up hiring due to growth in this sector, in part due to the online shopping trend during COVID-19. Walmart U.S. stores head of human resources Drew Holler reported that Walmart increased its labor force by 14 percent since 2019. The company is also "overhauling management roles in its supercenters … [with] some jobs overseeing traditional in-store departments … being phased out."
R5 Capital founder Scott Mushkin opined that, "Walmart should be investing in the stores and e-commerce infrastructure rather than spending billions on investments like TikTok." Other analysts believe that Walmart+ "will never be able to compete with Prime, which has no minimum order and includes streaming entertainment."
Recode reports that for the last five years, "nearly every one of Walmart's big moves has seemingly had one goal: to narrow Amazon's embarrassingly huge lead in e-commerce." That includes Walmart's $3 billion purchase of Jet.com in 2016 and its $16 billion deal in 2018 for India's Flipkart, as well as the launch of Walmart+.
With the acquisition of TikTok, it adds, "it still shows the traditional retailer is trying to invent a digital future where it will be a leader of Amazon rather than a follower." If the deal closes, Walmart will "provide [its] e-commerce, fulfillment, payments and other omnichannel services to TikTok Global."
Recode says that might mean that Walmart will incorporate online shopping without leaving the app, similar to the Chinese version of TikTok, Douyin. The latter has "a deeper e-commerce integration for shopping … including strength in livestreaming video commerce, which allows app users to watch live as their favorite personalities or brands show off new merchandise and then have an easy way to buy what they see."
Although Douyin and its ilk are popular in Asia, no U.S. company, including Amazon, have figured out how to "make this idea mainstream" domestically. A "TikTok-branded storefront or a direct link for Walmart merchants to advertise through the video app could help the retailer attract a new set of younger consumers," says Recode.
Topics:
Advertising
,
Amazon
,
Amazon Prime
,
Coronavirus
,
COVID-19
,
Cowen
,
Delivery
,
Douyin
,
Drew Holler
,
E-Commerce
,
Edward Yruma
,
Flipkart
,
Jet.com
,
KeyBanc Capital Markets
,
Oliver Chen
,
Online Shopping
,
Oracle
,
R5 Capital
,
Retail
,
Scott Mushkin
,
Streaming
,
Subscription
,
TikTok
,
TikTok Global
,
UBS
,
Walmart
,
Walmart Plus