Fashion-centric publication W Magazine, in partnership with visual effects house The Mill, features augmented reality in its September 2017 Collector's Issue. With Katy Perry on the cover, the issue appears to be an ordinary magazine, but if a user views it through a smartphone or tablet lens, he will see various augmented reality images. The viewer must first install W Magazine's new companion app, Beyond the Page, available for iOS and Android, that activates the AR imagery in the issue.
Engadget reports that, with the use of the app, "Perry's face actually becomes a 3D model made up of colorful projected images," and if the user taps on her lips or forehead, "a short film pops up, wherein she delivers a message about 'rebellion' while wandering the streets of Paris donned in Saint Laurent."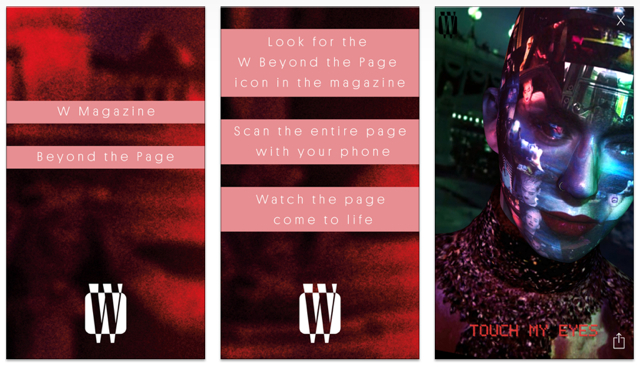 Although other pages in the issue also utilize AR, the magazine's cover is the most immersive example, since it allows the user to "move around and zoom in or out of the photoreal shot," and "the rest are simply traditional still images that bring up videos intended to complement photo shoots."
Artists Alex Israel and Collier Schorr are featured in the AR sections. The pages with additional AR material are marked with a Beyond the Page label, encouraging readers to download the app.
W Magazine follows on the heels of The New Yorker and Elle, which also published issues with AR-enabled covers. Research firm MagNet reports that "magazines sales have fallen 53 percent since 2011, with revenues down 43 percent," which means that, "publishers have nothing to lose by experimenting with newfangled tech."
Fashion brands have also experimented with AR, including Gap, which plans to build AR "dressing rooms," so that shoppers can try on clothes at home, and Nike, which "recently started using AR to sell limited-edition shoes through its SNKRS app for iOS."
W Magazine posted a how-to page featuring details for using the AR tech through its app.
Topics:
3D
,
Alex Israel
,
Android
,
Augmented Reality
,
Beyond the Page
,
Collier Schorr
,
David Chang
,
Elle
,
Fashion
,
Gap
,
iOS
,
Katy Perry
,
Magazine
,
MagNet
,
Mobile
,
Nike
,
Photo
,
Publisher
,
Smartphone
,
SNKRS App
,
Tablet
,
The Mill
,
The New Yorker
,
Video
,
Visual Effects
,
W Magazine
,
Yves Saint Laurent