Vimeo introduced its second slate of original films and programs, including its first feature film and first concert film. Last month, YouTube also introduced original programming on its YouTube Red ad-free subscription service. But Vimeo's slate is clearly aimed at an older demographic than YouTube's, which features YouTube stars such as PewDiePie. Vimeo also upgraded its iOS mobile app, with a new interface that organizes videos into categories (such as Music, Documentary, Travel) to distinguish them from personal videos.
Among Vimeo's new original content, reports TechCrunch, is the feature-length documentary "Wizard Mode," a "personal perspective on autism," focused on one of the world's greatest pinball players. Indie musician and "chillwave pioneer" Toro y Moi is featured in the first concert film.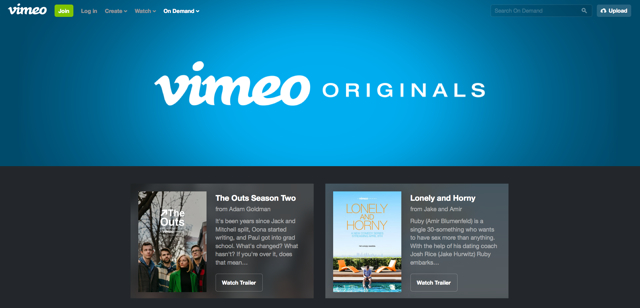 Also on tap is "Lonely and Horny," from CollegeHumor's Jake Hurwitz and Amir Blumenfeld ("Jake and Amir"), and a comedy special "Garfunkel and Oates: Trying to be Special," with comedy-folk duo Riki Lindhome and Kate Micucci. Lindhome and Micucci have done an IFC TV series, a Web series, multiple albums, concert tours, and music videos, notes TechCrunch.
The original programs will premiere this year, beginning in April and at staggered times thereafter, for rent or purchase. On March 30, Vimeo will also debut season two of its original series "The Outs," about gay men in their 20s "struggling with life and finding love in the city."
As to how much Vimeo has spent on its original content, although it was reported earlier that the company planned to spend at least $10 million in 2016, its only comment was that the new slate has been "a significant investment."
Topics:
Ad-Free
,
Amir Blumenfeld
,
App
,
CollegeHumor
,
Concert
,
Concert Film
,
Documentary
,
Garfunkel and Oates
,
IFC
,
iOS
,
Jake and Amir
,
Jake Hurwitz
,
Kate Micucci
,
Lonely and Horny
,
Mobile
,
Movie
,
Original Programming
,
PewDiePie
,
Riki Lindhome
,
Streaming
,
Subscription
,
The Outs
,
Toro y Moi
,
Video
,
Vimeo
,
Wizard Mode
,
YouTube
,
YouTube Red