Israel-based Vidmind plans to unveil the second generation of its Android set-top box this week at IBC in Amsterdam. The company hopes to attract cord cutters with an offering that combines over-the-air broadcast TV with live streaming and on-demand content. Meanwhile, TiVo has announced its 24TB TiVo Mega, slated for launch early next year. For $5,000 you can record six shows at once and store up to 4,000 hours of HD programming (or 26,000 hours of SD content). It also includes free TiVo service for life.
"Its ten hot-swappable drives and 'anodized precision-machined' enclosure will look more at home on a server farm than in a TV room, but the on-screen interface will be your typical TiVo experience," according to Wired. "You get the TiVo channel guide, the ability to stream and schedule recordings on mobile devices, the ability to transfer shows to other TiVos on the same home network, and universal searches across live, recorded, and streaming shows."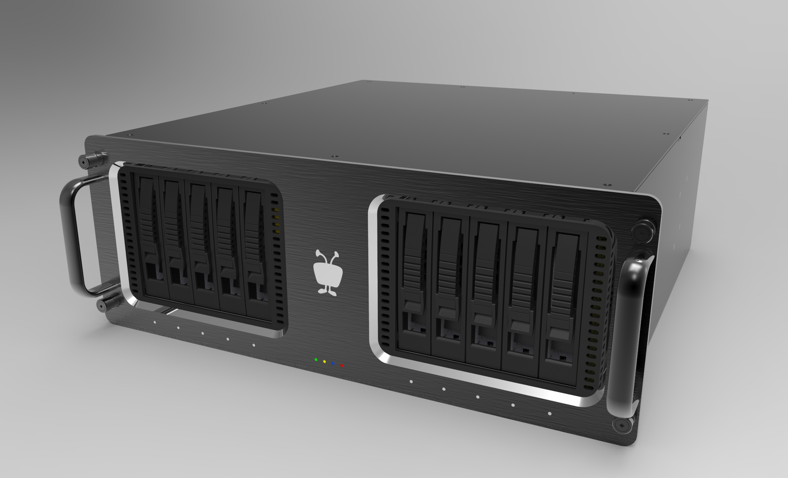 Startup Vidmind is looking to a new generation of Internet-centric TV operators with an Android-based STB that combines broadcast TV and online video content.
"Vidmind's first major customer is Russia's TVzor, a new TV operator that was launched by the local consumer electronics retailer Trellas this summer," reports GigaOM.
"TVzor offers its customers a combination of over-the air TV that can be received with an antenna, channels that are streamed over the Internet and video on demand. Vidmid's set-top box combines all of these sources in a unified interface, and subscribers don't really notice a difference between content coming to them through the antenna and through the Internet, explained Vidmind CEO Danny Peled."
According to Peled, local laws favor the Russian operator, and allow the company to legally stream broadcast channels. However, the situation is different in the U.S. following the Supreme Court's decision to shut down streaming service Aereo.
"That's why Vidmind plans to also build a version of its set-top box capable of receiving U.S. broadcast TV, which could be used by operators looking to launch a new generation of TV services," explains GigaOM.
Topics:
Aereo
,
Amsterdam
,
Android
,
Antenna
,
Broadcast
,
Cloud
,
Danny Peled
,
DVR
,
HD
,
IBC 2014
,
Israel
,
Live Streaming
,
Live TV
,
Mobile
,
On Demand
,
Online Video
,
OTT
,
Record
,
Roamio
,
Russia
,
Set-Top Box
,
STB
,
Storage
,
Subscriber
,
Supreme Court
,
Television
,
TiVo
,
TiVo Mega
,
Trellas
,
TVzor
,
Video
,
Vidmind
,
VOD