Warner Bros. is planning to release its Kickstarter-initiated "Veronica Mars" movie, starring Kristen Bell, in 270 theaters on March 14, the same day the film will be made available to rent or purchase online. While independent studios and theaters have been experimenting with same-day releases in recent years, the move will mark the first time that a major Hollywood studio has distributed a movie theatrically and for home viewing simultaneously in the U.S.
"For decades, a sacrosanct 'theatrical window' protected big-screen releases from the competition of DVD sales, rentals or other distribution platforms," reports The Wall Street Journal. "Under intense pressure from the largest cinema chains, which argue that such competition would take business away from them, studios usually put at least three months between theatrical and DVD or video-on-demand releases."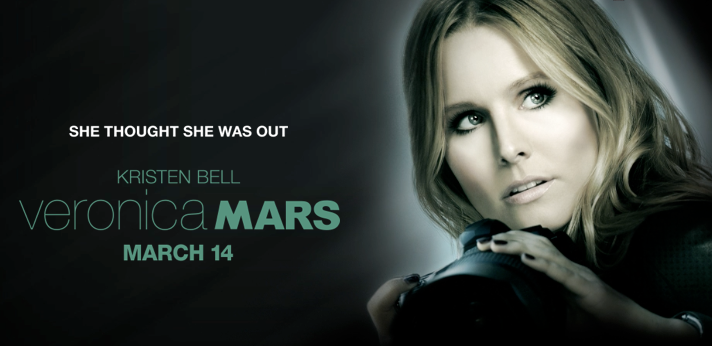 Warner Bros. is taking a new approach by renting 260 AMC screens, while the remaining 10 theaters to offer the film are independently owned. Since the studio is renting the theaters, AMC does not consider the strategy to be a violation of its standard 90-day window policy.
AMC's competitors, including Regal Entertainment and Cinemark, reportedly do not rent out screens for movies planned to be released for home viewing within fewer than 90 days.
"Because the passions for 'Veronica Mars' run deep, executives at Warner and AMC said they are confident fans will go to theaters with friends and buy or rent a copy to watch again at home," notes WSJ. "Advertising is being done entirely online and in AMC theaters, with no traditional television spots or billboards. Given the movie's modest budget, Warner says it is counting only on the existing 'Veronica Mars' fan base to attend."
"Sources at Warner Bros. say the 'Veronica Mars' strategy is a rare exception — a one-off release that isn't meant to change the way the studio plans to release its films in the future," adds Variety. "The studio stressed that the theatrical release is essentially a make-good to the Kickstarter campaign. It also serves as a way to eventize and promote the mostly direct-to-homevid release, help get it reviewed by critics, and fulfill certain rule requirements come awards season in which films must play in theaters to be considered for some nominations."
For more information, visit the "Veronica Mars" social site or check out the Kickstarter project page.
Topics:
Advertising
,
AMC
,
Bell
,
Budget
,
Buy
,
Campaign
,
Chain
,
Cinema
,
Cinemark
,
Crowdfund
,
Distribution
,
DVD
,
Film
,
Hollywood
,
Home
,
Independent
,
Indie
,
Kickstarter
,
Mars
,
Motion Picture
,
Movie
,
Online
,
Policy
,
Project
,
Purchase
,
Regal
,
Release
,
Rent
,
Rental
,
Sales
,
Screen
,
Series
,
Show
,
Social
,
Strategy
,
Stream
,
Streaming
,
Studio
,
Television
,
Theater
,
Theatrical
,
TV
,
Variety
,
Veronica
,
Video
,
VOD
,
Warner
,
Warner Bros.
,
Window