In a landmark deal that could potentially serve as precedent for future Netflix agreements with broadband providers, the video streaming service has agreed to pay Comcast to guarantee that movies and TV shows stream smoothly to the cable provider's customers via Netflix. In exchange, Netflix will have direct access to the broadband network. The pact comes 10 days after Comcast agreed to buy Time Warner Cable, which, if approved, will lead to Comcast providing broadband services to about 32 million households.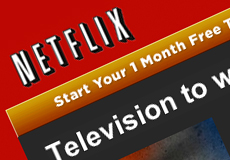 "In a statement confirming the broad outlines of the deal, the companies on Sunday said the agreement would provide 'Comcast's U.S. broadband customers with a high-quality Netflix video experience for years to come,'" reports The Wall Street Journal.
The debate over which companies — broadband providers like Comcast or content companies like Netflix — should bear the cost of upgrading infrastructure to accommodate the growing volume of online video has been ramping up. Until now, Netflix has held out from joining other Web companies in paying broadband providers for direct connections that provide faster, smoother access to their networks.
According to people familiar with the matter, companies such as Facebook, Google and Microsoft have been paying major providers in an effort to speed traffic through an increasingly congested Internet.
Netflix, which currently has more than 30 million paid U.S. subscribers, has been in a standoff with providers including Comcast, AT&T, Verizon and TWC.
"Netflix wanted to connect its specialized servers free of charge to the providers' networks, arguing that such a link would improve streaming quality for its customers," notes the article. "Netflix has won such agreements from some smaller broadband providers in the U.S., including Cablevision Systems Corp., as well as operators overseas. But major U.S. providers, including Comcast, wanted to be paid for the connections, because of the heavy load of traffic Netflix sends through their networks."
According to one insider, Netflix is now likely to compensate other providers, following the Comcast deal.
A related WSJ article suggests that such a precedent may come at a price, especially for smaller startups: "If broadband access providers require payment from Web publishers, the FCC warned in a court filing last fall, it will 'increase barriers to entry of new services and would make it more difficult to attract the necessary financing for startup Internet ventures. The next Google or Facebook might never begin,' the commission said in the filing, responding to a pending Verizon lawsuit that challenges the regulator's 'open Internet' rules."
Topics:
Acquire
,
AT&T
,
Broadband
,
Cable
,
Cablevision
,
Comcast
,
Congestion
,
Deal
,
Facebook
,
Fast
,
FCC
,
Film
,
Google
,
Internet
,
Journal
,
Landmark
,
Load
,
Microsoft
,
Motion Picture
,
Movie
,
Netflix
,
Network
,
Online
,
Open
,
Operator
,
Pact
,
Precedent
,
Program
,
Provider
,
Purchase
,
Series
,
Server
,
Show
,
Smooth
,
Speed
,
Stream
,
Streaming
,
Subscribe
,
Subscriber
,
Subscription
,
Television
,
Time Warner
,
Traffic
,
TV
,
TWC
,
Verizon
,
Video
,
VOD
,
Wall Street