According to a new study from Country Financial, a majority of U.S. consumers are sharing their login info for mobile, shopping and streaming accounts, but are not necessarily sharing the tab. The study found that overall, 74 percent of consumers say they share accounts for Airbnb, Amazon Prime, Hulu, Netflix, Spotify and Uber with their family members and friends (and, in some cases, even their exes). However, more than 36 percent of those who freely share their accounts also indicate that they do not share the monthly costs of those accounts with others.
CNBC reports the survey found that, "entertainment services, such as Netflix and Hulu, were the most commonly shared with at least one other person, followed by mobile phone plans and shopping accounts like Amazon Prime or Costco. Younger adults were also more likely to use shared services, particularly ones like Uber or Lyft."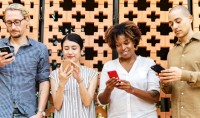 Doyle Williams, EVP at Country Financial, explains that millennials are faced with increasing rent prices and record-high student loans, which can be part of the explanation. However, the argument could be made that facing such increasing costs should be the logical time to trim other monthly expenses.
"And yet, when it comes to their subscription services," explains CNBC, "many people have no idea how much they are actually paying — or care."
"The vast majority, 84 percent, of consumers underestimated what they shell out on those monthly expenses, which also include dating apps, cable television and Wi-Fi, according to a separate report by the Waterstone Management Group."
Topics:
Airbnb
,
Amazon
,
Amazon Prime
,
Apps
,
Cable
,
Costco
,
Country Financial
,
Dating Apps
,
Doyle Williams
,
Hulu
,
Internet
,
Login
,
Lyft
,
Millennials
,
Mobile
,
Movies
,
Music
,
Netflix
,
Passwords
,
Shopping
,
Smartphone
,
Spotify
,
Streaming
,
Student Loans
,
Study
,
Subscription
,
TV Shows
,
Uber
,
Video
,
Waterstone Management Group
,
Wi-Fi