As the number of options for watching great content has grown, the ability to search and find that content has lagged behind. An ideal TV guide, from a single remote control (or smartphone), would offer search, sorting and personalization, and suggest the next program we might want to watch. One such possibility is the $100 Caavo Control Center, which enables up to four devices to be plugged in to a single remote control. A second is the Reelgood smartphone-based streaming guide that tracks over 50 streaming services.
The Wall Street Journal reports that, testing out the Caavo Control Center, the reviewer was able to simply and quickly plug in a Roku, Xbox, Fire TV and Chromecast. The text-based interface spells out recommendations, and the system "uses machine-vision tech to actually understand what's on the screen as you're navigating your streaming boxes, so it can make sure its commands are working."
Caavo "remembers what you're watching, and can use that data to build cross-platform watch lists, letting you jump from one show to another on a completely different box with a click or two." The reviewer dubs Caavo "easier and more elegant than the others I've tested."
It is, however, not perfect, since "no service, not even Caavo, offers search or recommendations" across sources as disparate as Netflix, Hulu, Twitch and Twitter. "You might be able to search on your Roku to see if a show is playing on Hulu, Netflix and/or Amazon, but it's a lot harder to find things that may be lurking in cable-channel apps like HGTV or more sprawling video repositories such as YouTube without going to them."
Other companies giving this a go include GoWatchIt, a "TV/movie search engine that licenses its tech to other brands," and an Apple app "called TV that aggregates a number of content providers into a single place." But the best system is the free Reelgood that "helps users find shows and movies across several dozen services, and offers useful recommendations based on Rotten Tomatoes reviews and viewer data."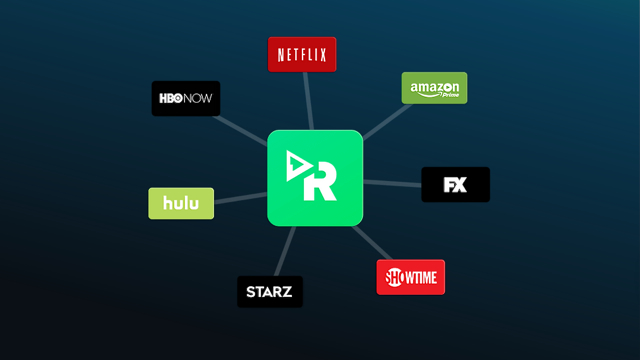 TechCrunch offers more details on the Reelgood app, which was recently updated, and services over one million monthly active users. The iOS update adds "personalized recommendations, curated selections, alerts for shows and movies you're tracking, advanced search and filtering, and the ability to track content over 50 more streaming services."
The app also offers two new types of recommendations: Because You Watched, which is viewing suggestions found on all 50+ services and tied to the user's watch history. The second recommendation option is random — dubbed Reelgood Roulette, inspired by Netflix Roulette (whose software it licensed) — that "lets you shake your device while on the Discover tab to get a non-personalized, random suggestion."
Reelgood also "now offers more powerful search and filtering capabilities involving Rotten Tomatoes, IMDb scores, plus cast and crew listings," as well as curated editorial collections.
Topics:
Amazon
,
Apple TV App
,
Caavo
,
Caavo Control Center
,
Chromecast
,
Fire TV
,
GoWatchIt
,
Hulu
,
IMDb
,
iOS
,
Machine Vision
,
Movie
,
Netflix
,
Personalization
,
Recommendation
,
Reelgood
,
Reelgood Roulette
,
Remote Control
,
Roku
,
Rotten Tomatoes
,
Search
,
Smartphone
,
Television
,
TV Guide
,
Twitch
,
Twitter
,
Xbox
,
YouTube