A recent study from IPG Media Lab and digital advertiser YuMe indicates that consumers remember ads better after viewing them on tablets as compared to smartphones, PCs or TVs. The study suggests that the improved ad recall is because viewers tend to watch videos on tablets when they're at home and they do not multitask the way they do when watching TV. In an unrelated poll of ad execs, IAB found that a majority plan to shift their budgets from TV to digital video ads.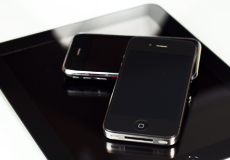 "After polling 5,000 advertising executives attending the Interactive Advertising Bureau's Digital Content NewFronts, the IAB found that 75 percent of U.S. senior executives plan to shift their budgeting from television to digital video ads," reports Business Insider. "And how will those digital video ads be distributed? According to a Be On survey, 73 percent of respondents will increase pre-roll ad spending in the next year. Social spending will increase by 53 percent."
Other formats with planned increases include promoted content, branded content, display and large format.
The study from IPG and YuMe sampled about 8,300 consumers to analyze viewing habits and when they watch video. The process included webcam interviews.
The study found that the best way to get the undivided attention of viewers (especially younger viewers) is via tablets, followed by smartphones, computers and lastly television. Many respondents noted that their primary focus is often elsewhere while watching TV. (The related IPG charts are available on GigaOM.)
Business Insider suggests that social media platforms are anticipating the shift: "Bloomberg reported that Facebook, for example, is planning to charge advertisers between $1 million and $2.5 million dollars for 15-second video ads to play in consumers' news feeds three times in one day… Other popular companies are seeing an increase in digital video ads as well. Pandora, for example, has seen a recent uptick in video ads. TV isn't getting entirely abandoned, but it has some very healthy competition."
Topics:
Ads
,
Advertisers
,
Advertising
,
Be On
,
Bloomberg
,
Computer
,
Digital Video
,
Facebook
,
IAB
,
IPG
,
Marketers
,
Marketing
,
Media Lab
,
Mobile
,
Music
,
NewFronts
,
News Feed
,
Pandora
,
PC
,
Phone
,
Smartphone
,
Social
,
Social Media
,
Strategy
,
Stream
,
Streaming
,
Tablet
,
Television
,
TV
,
Video
,
Video Ads
,
Viewers
,
Webcam
,
YuMe